Production managers are primarily administrators or supervisors who allocate labour resources, track production schedule and expenses, make on-the-fly process adjustments, and coordinate the receipt of raw materials and transportation of finished goods.
Let us know more about Career Opportunities as a Production Manager!
Who is a a Production Manager?
The majority of production managers' time is spent ensuring that everything runs smoothly and efficiently. In order to increase productivity and efficiency, they devise various processes, policies, and procedures. Production managers excel at planning in addition to being excellent leaders. They have everything scheduled down to the second since they have deadlines to meet. That is why efficiency is their watchword. They aim to make sure that objectives and deadlines are not only reached, but also reached and exceeded.
Eligibility
One of the first things to consider if you want to be a production manager is how much schooling you'll need. A bachelor's degree is held by 52.9 percent of production managers, according to our research. When it comes to higher education, we discovered that 6.0 percent of production managers had a master's degree. Despite the fact that most production managers have a college diploma, it is feasible to become one with only a high school diploma or a GED.
Roles and Responsibilities of a Production Manager
The role of a production manager will depend on the nature of the production system. Primarily they have to oversee the production process and coordinate all production activities and operations. Their responsibilities include:
Firstly, Production Managers plan and develop up a production schedule
Secondly, they decide on and order the resources that are required to ensure stock levels remain adequate
Thirdly, they select equipment and take responsibility for its maintenance
Moreover, they are responsible for establishing the quality standards
Further they ensure that the production will be cost effective by estimating costs and negotiating and agreeing budgets with both clients and managers
They also monitor the production processes and adjust schedules as needed
Likewise they monitor productivity rates and product standards and implement quality control programmes
Subsequently, they ensure customer orders are completed on time and to budget and that quality standards and targets are met
Eventually they supervise and motivate a team of workers
Career opportunities
You could begin as an operations manager, advance to the position of general manager, and finally to the post of general manager of operations. Some of the titles are described below –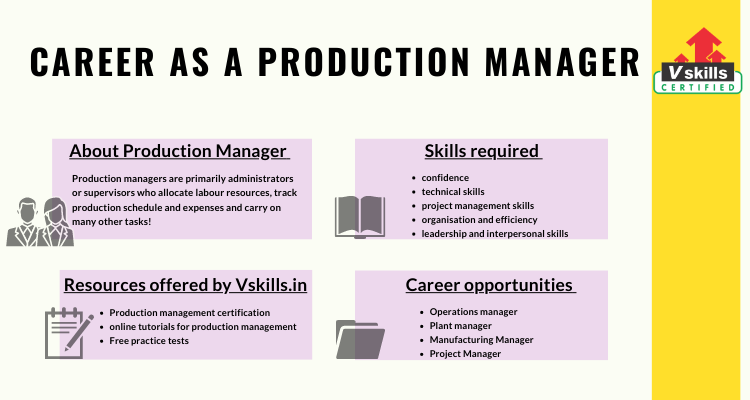 Operations manager – You have a lot of obligations as an operations manager. You may be in control of multiple departments or operations in public or private organisations, but the most important thing to remember is that you are in command. You'll be establishing regulations, staying on top of everyday operations, and working out how to use certain materials and resources in addition to being in control. Before you get too worked up, remember that each department will most likely be overseen by supervisors.
Plant manager – The plant manager's principal focus is daily plant operations. They supervise and manage the plant's operations and resources, ensuring that the finished product fulfils quality standards and company requirements. The plant manager's job is to increase production while lowering costs without sacrificing product quality. They create methods and techniques to boost productivity and encourage employees to reach their goals. They are also responsible for handling and resolving complaints.
Manufacturing Manager – A manufacturing manager is in charge of managing and guiding their company's production team's daily activities. Nonetheless, they play a critical role in ensuring that all production targets are completed, which helps boost sales and eliminate quality issues. A manufacturing manager's responsibilities include planning workflow, evaluating employee performance, laying out equipment and materials efficiently, and performing quality control methods. They are frequently involved in both monitoring and supervising production methods.
Project Manager – Project managers are critical to the success of, well, projects. They take on the responsibility of planning and overseeing each project to guarantee that it is completed on schedule and on budget. However, the work entails far more than that. A project manager is also in charge of locating project resources, ensuring that the budget is in order, and keeping stakeholders informed throughout the project. When it comes to a project, project managers are undoubtedly involved in a little bit of everything.
Average Salary
Production managers are important in a variety of businesses now, and they will be for at least the next decade. As sectors grasp the benefits of centralising production duties, opportunities for production managers are likely to expand at a steady rate. Production Managers in America make an average salary of $70,377 per year or $34 per hour. The top 10 percent makes over $108,000 per year, while the bottom 10 percent under $45,000 per year.
Future
A huge proportion of people switch their current firms at this age, preferring to take on new challenges rather than rest on their laurels. Many people prefer to stay in their current jobs and fine-tune existing operations, which means less hours are worked. Salaries are rising, and most people who leave the industry now are doing so to retire.
Resources for role of a Production Manager
Before you can become an expert in desired areas, you must first build a solid base. Before you can move on to practical teaching, you'll need to have the right applied skills. To gain a full understanding of the domain, you can use the following tools:
Firstly, Online Tutorials for Production Management
MBA in Production Management or any other allied field
Also, Certification Courses from verified sources such as Vskills, Coursera, Udemy and so on.
In addition, Online communities
Moreover, Blogs and study material from experts in this field and many more.
Here are some examples of how you can improve your abilities:
Freelancing
Internships
Apprenticeship programs
The above steps will help you to get this domain started. It's a long way to go, however. You can take an advanced course to reach a new level of skills.
Some resources offered by Vskills
Vskills offer Production Management certification for all those interested in working in this field. This certification course covers the following topics –
Operations & Productivity
Forecasting
Product & Process Design
Capacity Design
Facility Location
Layout Design
Material Handling
Production Planning Control
Project Scheduling
Inventory Management
Operations Planning & Scheduling Systems
Quality
Operations Research
Vskills also offers free practice tests and online tutorials to supplement the learning process. You can check them by clicking on the following links –
Discover the career opportunities and other prospects of career as Production Manager. Hurry up and start preparing now with Vskills.in!