Certify and Increase Opportunity.
Be
Govt. Certified PowerPoint 2003 Professional

Edit Text Based PDF file
Download PDF Editor and install it by double clicking the downloaded exe file. Please follow the installation message. The installation may take a few seconds till there will be an icon showing up on the desktop.
Please double click the icon to launch this software. The following snapshot is from the software interface.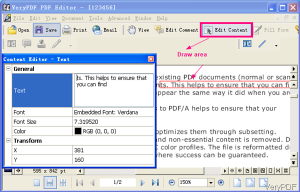 Please click option Open to add PDF file to software interface. Click option Edit Content then the mouse will turn to cross. Please draw an area where you need to edit the content. Then please right click the area and choose Properties in the dropdown list. Then you will see the dialogue box in the left on the software interface.
In the Content Editor dialogue box, you can edit content, insert text to the PDF file. Meanwhile, you can change font style, font size, color and font position.
Please note this method is only available for text based PDF file. When you need to edit image based PDF file, please refer to the following method.
Selecting Text
Before you can do anything to the text on your slides, you first have to select it. Text can appear in any of three places on a slide: in one of the title or subtitle placeholder text boxes that PowerPoint automatically adds to your slide, in a text box that you have added to a slide or in a shape that you have added to a slide.
Clicking the Home tab shows you your editing options, but you can not actually use any of them until you click inside a text box. When you do, PowerPoint activates the text editing options (except Paste and Clipboard, which remain grayed out until you cut or copy text, in other words, until you have something to paste from the Clipboard) and the Drawing Tools | Format tab appears.
To select text:
Click anywhere in an existing text box, placeholder text box, or on a shape. PowerPoint highlights the outline of the text box you clicked in. In addition, PowerPoint displays the Drawing Tools/Format context tab and activates the text-related options in the Home tabunderlining, font size, alignment, and so on.

When you click in a placeholder text box (one that says Click to add title or Click to add subtitle), PowerPoint erases the placeholder text. (Placeholder text does not appear in Slide Show view, nor does it appear when you run your slideshow, it is just there to remind you to type your own text.)

Drag to select as much text as you like. Alternatively, you can press Shift and use the arrow keys (or click again). Or double-click to quickly select a single word. To select discontinuous words or phrases, press Ctrl while you select each word or phrase. Whichever method you use, PowerPointhighlights the text you select.