Certify and Increase Opportunity.
Be
Govt. Certified PowerPoint 2003 Professional

Add, edit, or delete comments in a presentation
A comment is a note that you can attach to a letter or word on a slide, to a graphic or other object, or to a whole slide. Using comments is a great way to provide feedback to others about their presentation.
Add a comment
Click a location on the slide where you want your comment to be referenced.
Click Review > New Comment.
TIP    A comment icon 
 appears on the slide and the Comments pane opens.
In the Comments pane, type your message in the box, and press Enter or click outside the comment box.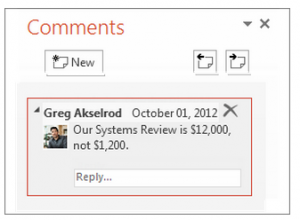 NOTES
Elements that have comments are indicated by a comments icon . Click the icon to see the comments about that element in the Comments Pane.
To move between comments, click the up or down arrow at the top of the Comments Pane.
Edit or reply to a comment
Use the Comments Pane to edit comments added by other reviewers, or reply to them.
To edit a comment: Click the text of the comment that you want to edit. This opens a text entry box with the comment in it. Make the changes that you want and then click outside the comment box to finish.
To reply to a comment: In the comment that you want to reply to, click Reply. Type your reply in the text entry box, then press the Tab key to finish.
Delete a comment
On the slide:    Right-click the comments icon  of the comment that you want to delete, and then clickDelete Comment.