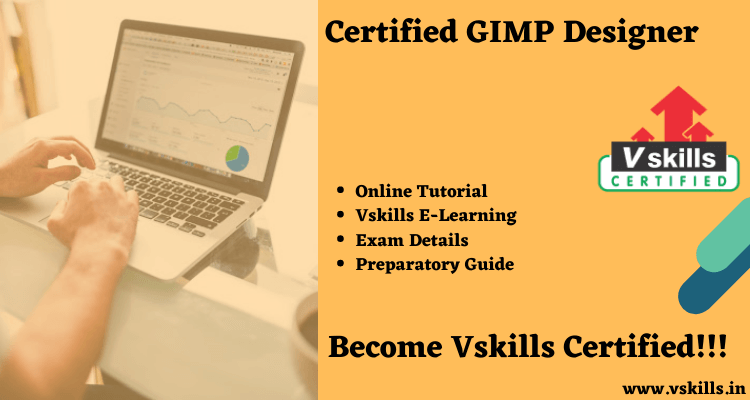 GIMP is a free and open-source graphics editor that is essentially used for image retouching and editing, reforming between distinctive image formats and doing the free-form drawing, etc. With GIMP, the candidate can do photo retouching, image composition, and image authoring and can be corresponded by users to Adobe's Photoshop and Illustrator applications. GIMP was created by Peter Mattis and Spencer Kimball and is released under GPLv3+ licenses and is available for Linux, Microsoft Windows, and macOS. The Vskills Certified GIMP Designer exam proves that the candidate possesses the necessary skills and knowledge.
Certified GIMP Designer: Overview
Vskills certification for GIMP Designer evaluates the candidate as per the company's requirement for graphic designing and image guidance. The Certified GIMP Designer certification examines the candidates in numerous areas in the painting, combining images, image manipulation, text management, usage of filters, and scripting GIMP. This certification is reserved for professionals and graduates aspiring to shine in their chosen areas. It is also well satisfied for those who are previously working and would like to take certification for additional career progression. Meriting Vskills Certified GIMP Designer Certification can help applicants differentiate in today's competing job market, increase their employment possibilities by illustrating their exceptional skills, and succeed in higher earning potential.
Vskills being India's largest certification provider gives candidates access to top exams as well as provides after exam benefits. This includes:
Become Government Certified Professional!
The Certification is valid for life.
Candidates will get lifelong e-learning access.
Access to free Practice Tests.
Candidates will get tagged as 'Vskills Certified' On Monsterindia.com and 'Vskills Certified' On Shine Shine.com.
Exam Details
Exam Duration: 60 minutes
Vskills Exam Code: VS-1123
Number of questions: 50
Maximum marks: 50
Passing marks: 25 (50%)
Exam Mode: Online
There is NO negative marking in this module.
Certified GIMP DesignerCourse Outline
Certified GIMP Designer covers the following topics –
1. GIMP Introduction
1.1 Introduction
1.2 Features and Capabilities
2. GIMP Basics
2.1 Running GIMP
2.2 Command Line Arguments
3. The UI
3.1 Basic Concepts
3.2 Main Windows
3.3 Undoing
4. Common Tasks
4.1 Intention
4.2 Change the Size of an Image for the screen
4.3 Change the Size of an Image for print
4.4 Compressing Images
4.5 Crop an Image
4.6 Find Info about Your Image
4.7 Change the Mode
4.8 Flip an Image
4.9 Rotate an Image
4.10 Separating an Object from Its Background
5. Draw Straight Lines
5.1 Intention
5.2 Examples
6. Images Basics
6.1 Image Types
6.2 Creating new Files
6.3 Opening Files
7. Images Export
7.1 Files
7.2 Images for the Web
8. Painting
8.1 The Selection
8.2 Creating and Using Selections
8.3 The QuickMask
8.4 Using QuickMask Mode
8.5 Paths
8.6 Brushes
8.7 Adding New Brushes
8.8 The GIH Dialog Box
8.9 Varying brush size
8.10 Gradients
8.11 Patterns
8.12 Palettes
8.13 Presets
8.14 Drawing Simple Objects
9. Combining Images
9.1 Introduction to Layers
9.2 Layer Modes
9.3 Creating New Layers
9.4 Layer Groups
10. Text Management
10.1 Basics
10.2 Text Tool Box
10.3 Text
11. Enhancing Photographs
11.1 Digital Camera Photos
12. Color Management with GIMP
12.1 Color Management Basics
12.2 Color Managed Workflow
13. Enrich my GIMP
13.1 Preferences Dialog
13.2 Grids and Guides
13.3 Rendering a Grid
13.4 How to Set Your Tile Cache
13.5 Creating Shortcuts to Menu Functions
13.6 Customize Splash-Screen
14. Scripting
14.1 Plugins
14.2 Using Script-Fu Scripts
14.3 Script-Fu
15. Tools
15.1 The Toolbox
15.2 Selection Tools
15.3 Paint Tools
15.4 Transform Tools
15.5 Color Tools
15.6 Other
16. Dialogs
16.1 Dialog Introduction
16.2 Image Structure Related Dialogs
16.3 Image-content Related Dialogs
16.4 Image Management Related Dialogs
16.5 Miscellaneous Dialogs
17. Menus
17.1 Introduction to Menus
17.2 The "File" Menu
17.3 The "Edit" Menu
17.4 The "Select" Menu
17.5 The "View" Menu
17.6 The "Image" Menu
17.7 The "Layer" Menu
17.8 The "Colors" Menu
17.9 The "Tools" Menu
17.10 The "Filters" Menu
17.11 "Windows" Menu
17.12 The "Help" Menu
18. Filters
18.1 Introduction
18.2 Blur Filters
18.3 Enhance Filters
18.4 Distort Filters
18.5 Light and Shadow Filters
18.6 Noise Filters
18.7 Edge-Detect Filters
18.8 Generic Filters
18.9 Combine Filters
18.10 Decor Filters
18.11 Map Filters
18.12 Rendering Filters
18.13 Web Filters
18.14 Animation Filters
18.15 Alpha to Logo Filters
Preparation Guide for Certified GIMP Designer
Candidates brewing for the Certified GIMP Designer exam should recognize the importance of exam resources. During the exam preparation, it is important to get all the necessary exam study sources. This will provide the benefit to understand the concepts and meaning more precisely. In the preparation guide, we will review some of the most significant resources to help the candidate prepare well for the exam.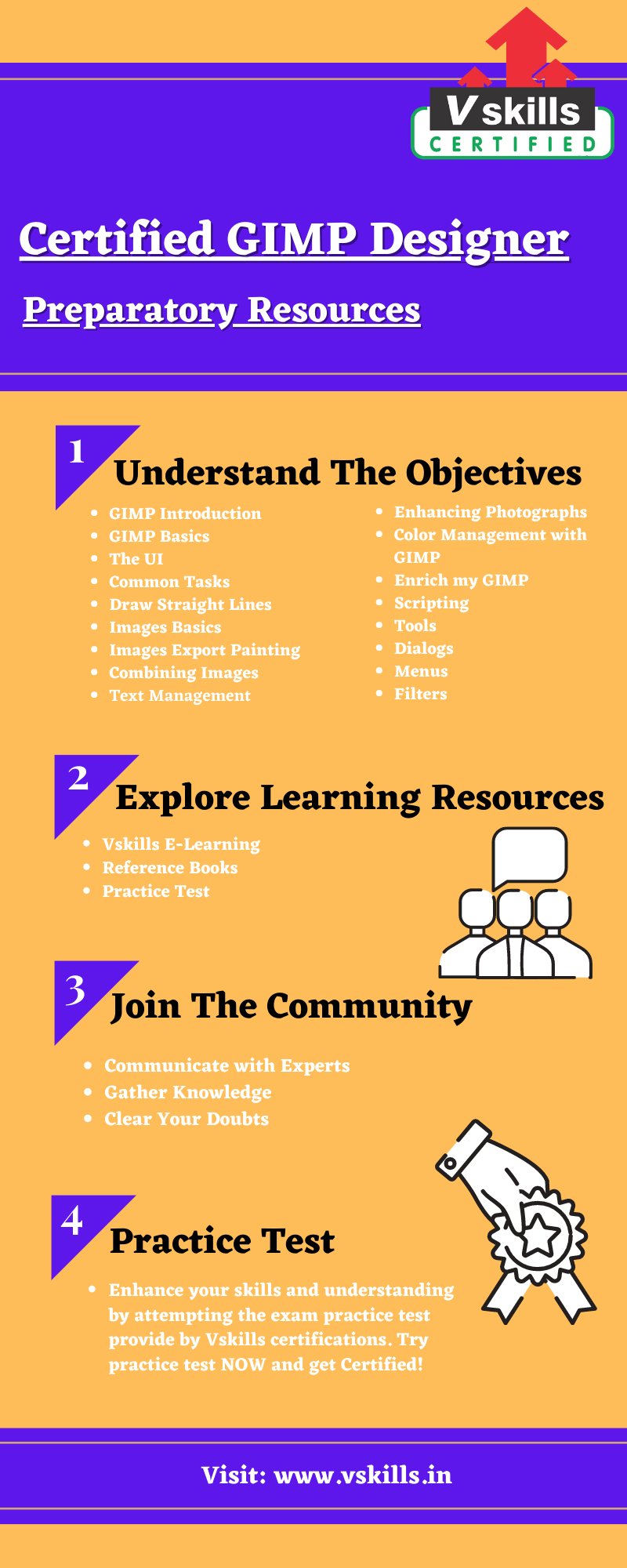 Exam Objectives
For every examination, the first task should be to get all the exam relevant details including the important contents and its topic. With complete exam objectives, the candidate's exam preparation time is better spent because they already know what to study. For this exam, the topics include:
GIMP Introduction
GIMP Basics
The UI
Common Tasks
Draw Straight Lines
Images Basics
Images Export
Painting
Combining Images
Text Management
Enhancing Photographs
Color Management with GIMP
Enrich my GIMP
Scripting
Tools
Dialogs
Menus
Filters
Vskills Online Learning Material
Vskills provides candidates a way to prepare for the exam using the online learning material for existence. The online material for this is regularly updated. Moreover, e-learning is bundled with hard copy material which encourages candidates to enhance and update the learning curve for superior and better opportunities. The candidate can also download the sample chapter for the Certified GIMP Designer exam.
Vskills Brochure
Vskills also provides a brochure for the Certified GIMP Designer exam. The brochure contains all the necessary related to the exam such as details, sample papers, important information, course outline, etc.

Books for Reference
The next step in the preparatory guide should be books and study guides. The candidate needs to find those books which are enriched with information. Finding a good book may be a difficult task, but in order to gather knowledge and skills, the candidate has to find, read, and understand.
Practice Test
Practice tests are the one who ensures the candidate about their preparation for the exam. The practice test will help the candidates to acknowledge their weak areas so that they can work on them. There are many practice tests available on the internet nowadays, so the candidate can choose which they want. Try the practice test here!
Job Interview Questions
If you are looking for a new job role in GIMP Designing, the you must checkout these online interview questions to prepare for same, the questions will surely help you to pass the interview with ease.