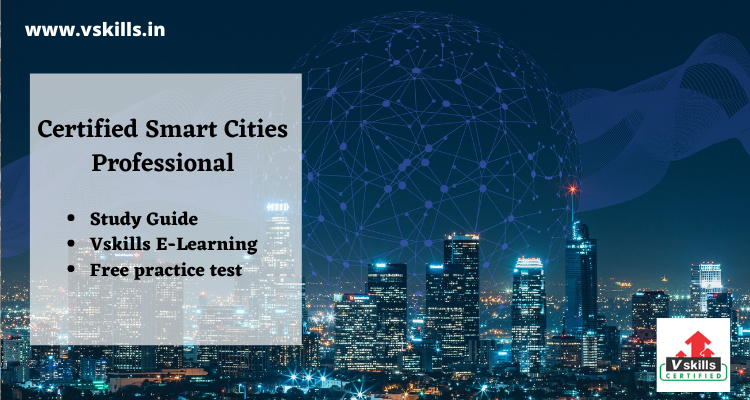 A Smart Cities professional usually works on developing and enhancing building projects. These projects may vary from developing a municipality to building and designing towns according to the project requirement and plan. Moreover, it requires a lot of skills to become a successful smart Cities Professional. To help you develop relevant skills we have, Vskills Certified Smart Cities Professional course.
Smart Cities Professional: Roles and Responsibilities
Being a Smart Cities Professional is a tedious task, it requires lots of hard work and dedication. To add on, you will be responsible for collecting, analyzing, and implementing the plans drafted by the team. Also, it will be your responsibility to ensure that the output is delivered on time adhering to the quality framework.
Vskills Certified Smart Cities Professional
With the Vsklls Smart Citied Professional Certification, you will develop all the relevant skills and knowledge required. Furthermore, this certification will help you grow high in your career. To add on, This course is intended for professionals and graduates wanting to excel in their chosen areas. It is also well suited for those who are already working and would like to take certification for further career progression.
Benefits of the Certification
Earning Vskills Smart Cities Certification can help candidate differentiate in today's competitive job market, broaden their employment opportunities by displaying their advanced skills, and result in higher earning potential.
Job seekers looking to find employment in research and development, business development, marketing, engineering, strategy and planning, departments of various companies, students generally wanting to improve their skill set and make their CV stronger, and existing employees looking for a better role can prove their employers the value of their skills through this certification.
Vskills being India's largest certification provider gives candidates access to top exams as well as provides after exam benefits. This includes:
The certifications will have a Government verification tag.
The Certification is valid for life.
Candidates will get lifelong e-learning access.
Access to free Practice Tests.
Test Details
Exam Duration: 60 minutes
Number of questions: 50
Maximum marks: 50
Passing marks: 25 (50%).
There is NO negative marking in this module
It is an online examination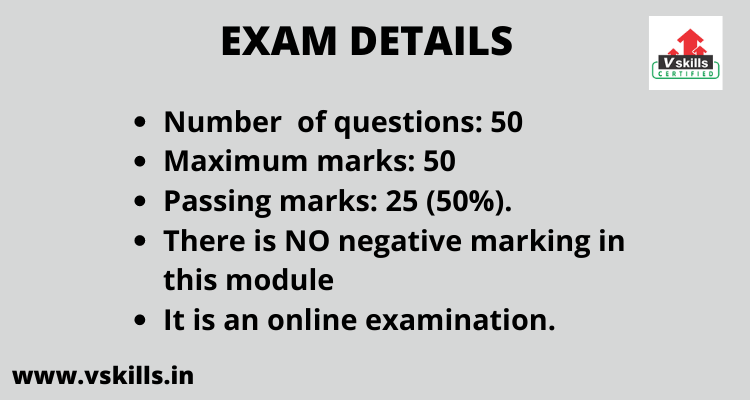 Course Outline
What Are Smart Cities?
Definitions of Smart Cities
Characteristics of A Smart City
Pillars Of Smart Cities
Instruments of Smart Cities
How Do Different Communities Of Interest Interpret Future Cities?
Citizens – Residents, Commuters, Visitors
Government
Corporate Institutions
Academic Institutions
Think Tanks, Policy Institutes And Research Institutes
International Financial Institutions
The Indian Economy And Smart Cities
Overview of India's Current Economic Scenario
Subsidies and the JAM Number Trinity Solution
The Banking Challenge
Need For Smart Cities In India
Budget 2014-15 And Smart Cities
Smart Cities: Projects In India
New Town Concept
Industrial Townships
Private Cities
Upcoming Projects
Preparatory Guide for Certified Smart Cities Professional
This Preparatory Guide will act as a bridge for your career advancements. Our team has curated this guide to help you excel in your certification Let's discuss step by step-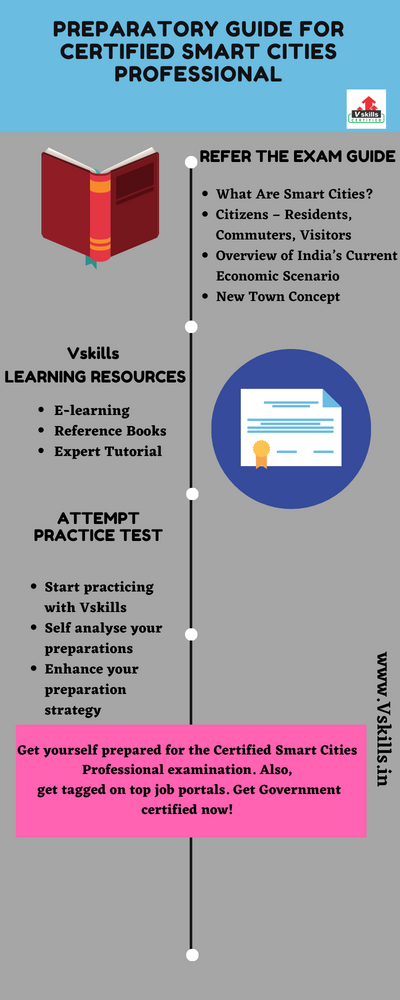 Exam Objectives
The course domains and modules act as a blueprint for the exam. This will help candidates to easily start preparing for the exam. Also, for the Vskills Certified Smart Cities Professional, the exam topics to refer to are:
What Are Smart Cities?
Citizens – Residents, Commuters, Visitors
Overview of India's Current Economic Scenario
New Town Concept
Refer: Certified Smart Cities Professional Brochure
Vskills E-Learning
For the Vskills Certified Smart Cities Professional examination, our team has provided online study material. Also, this online material is regularly updated. Furthermore, e-learning is bundled with hard copy material which helps candidates to improve and update the learning curve for superior and better opportunities.
Refer: Certified Smart Cities Professional Sample Chapter
Reference Books
It is vital to prepare from the right books. To ease out your hunt for books we have provided a list of books which you can refer to:
Smart Cities and Artificial Intelligence Convergent Systems for Planning, Design, and Operations by Christopher Grant Kirwan, Zhiyong Fu
Evaluate yourself with Practice Test
After studying for the examination, it is important to practice sample papers. Practicing sample test will help you analyze your weak areas and strengths. Moreover, you will be able to improve your answering skills that will result in saving a lot of time. So, make sure to find the best practice sources.