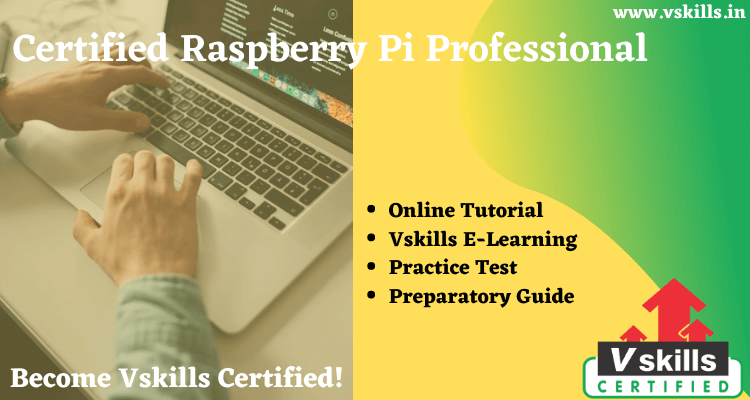 Vskills Raspberry Pi Professional course helps employees as per the company demands for producing low-cost computing clarifications in many areas like configuring and extending Raspberry Pi, administering Linux, programming Raspberry Pi with scratch, or Python, partition management, and using Raspberry Pi as a web server or home theatre. The Vskills Certified Raspberry Pi Professional exam proves that the candidate has such abilities.
Certified Raspberry Pi Professional: Exam Overview
Vskills certification for Raspberry Pi Professional evaluates the candidate as per the company's requirement for generating low-cost computing solutions. The certification examines the candidates on numerous fields in configuring and extending Raspberry Pi, administering Linux, programming Raspberry Pi with scratch or Python, partition management, and utilizing Raspberry Pi as a web server or home theatre. This certification is designed for experts and graduates aspiring to exceed in their chosen areas. It is also well accommodated for those who are previously working and would like to take certification for additional career progression. Meriting Vskills Raspberry Pi Professional Certification can help candidate distinguish in today's competitive job market, expand their employment possibilities by illustrating their advanced skills, and result in higher earning potential.
Vskills being India's largest certification provider gives candidates access to top exams as well as provides after exam benefits. This includes:
Become Government Certified Professional!
The Certification is valid for life.
Candidates will get lifelong e-learning access.
Access to free Practice Tests.
Candidates will get tagged as 'Vskills Certified' On Monsterindia.com and 'Vskills Certified' On Shine Shine.com.
Exam Details
Exam Duration: 60 minutes
Vskills Exam Code: VS-1111
Number of questions: 50
Maximum marks: 50
Passing marks: 25 (50%)
Exam Mode: Online
There is NO negative marking in this module.
Certified Raspberry Pi Professional Course Outline
Certified Raspberry Pi Professional covers the following topics –
Connecting the Board
ARM vs x
Window vs Linux
Raspberry Pi Basics
Connecting a Display, audio, and input devices
Flashing the SD Card
Connecting External Storage
Connecting the Network
Connecting Power
Linux System Administration
Linux Basics and Debian
Using External Storage Devices
Creating a New User Account
File System Layout
Installing and Uninstalling Software
Troubleshooting
Keyboard and Mouse Diagnostics
Power Diagnostics
Display Diagnostics
Boot Diagnostics
Network Diagnostics
The Emergency Kernel
Network Configuration
Wired Networking
Wireless Networking
Partition Management
Creating a New Partition
Resizing Existing Partitions
Moving to a Bigger SD Card
Configuring the Raspberry Pi
Hardware Settings—configtxt
Memory Partitioning—start elf
Software Settings—cmdlinetxt
Making Home Theatre PC
Playing Music at the Console
Dedicated HTPC with Rasbms
The Productivity Machine
Using Cloud-Based Apps
Using OpenOfficeorg
Image Editing with the Gimp
The Web Server
Installing a LAMP Stack
Installing WordPress
An Introduction to Scratch
Introducing Scratch
Example: Hello World
Example: Animation and Sound
Example: A Simple Game
Robotics and Sensors
An Introduction to Python
Introducing Python
Example: Comments, Inputs, Variables, and Loops
Example: Python and Networking
Hardware Hacking
Electronic Equipment
Reading Resistor Colour Codes
Sourcing Components
The GPIO Port
Using the GPIO Port in Python
Moving Up Form the Breadboard
Soldering Basics
Add-on Boards
Ciseco Slice of Pi
Adafruit Prototyping Pi Plate
Fen Logic Gertboard
Preparation Guide for Certified Raspberry Pi Professional
Candidates brewing for the Certified Raspberry Pi Professional exam should recognize the importance of exam resources. During the exam preparation, it is important to get all the necessary exam study sources. This will provide the benefit to understand the concepts and meaning more precisely. In the preparation guide, we will review some of the most significant resources to help the candidate prepare well for the exam.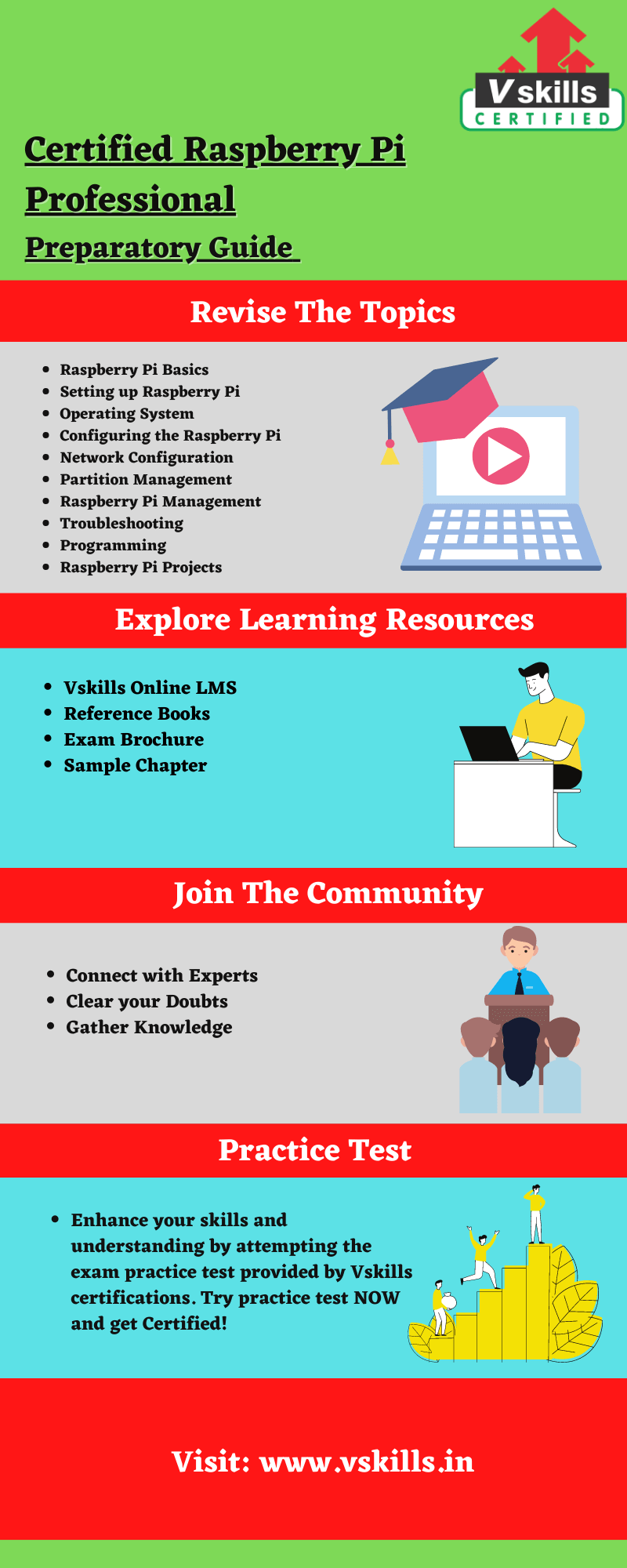 Refer Exam Objectives
For every examination, the first task should be to get all the exam relevant details including the important contents and its topic. With complete exam objectives, the candidate's exam preparation time is better spent because they already know what to study. For this exam, the topics include:
Raspberry Pi Basics
Setting up Raspberry Pi
Operating System
Configuring the Raspberry Pi
Network Configuration
Partition Management
Raspberry Pi Management
Troubleshooting
Programming
Raspberry Pi Projects
Vskills Online Learning Material
Vskills provides candidates a way to prepare for the exam using the online learning material for existence. The online material for this is regularly updated. Moreover, e-learning is bundled with hard copy material which encourages candidates to enhance and update the learning curve for superior and better opportunities. The candidate can also download the sample chapter for the Certified Raspberry Pi Professional exam.
Vskills Brochure
Vskills also provides a brochure for the Certified Raspberry Pi Professional exam. The brochure contains all the necessary related to the exam such as details, sample papers, important information, course outline, etc.

Books for Reference
The next step in the preparatory guide should be books and study guides. The candidate needs to find those books which are enriched with information. Finding a good book may be a difficult task, but in order to gather knowledge and skills, the candidate has to find, read, and understand.
Evaluate yourself with Practice Test
Practice tests are the one who ensures the candidate about their preparation for the exam. The practice test will help the candidates to acknowledge their weak areas so that they can work on them. There are many practice tests available on the internet nowadays, so the candidate can choose which they want. Try the practice test here!

Job Interview Questions
If you are looking for a new job role in Raspberry Pi, the you must checkout these online interview questions to prepare for same, the questions will surely help you to pass the interview with ease.