Certify and Increase Opportunity.
Be
Govt. Certified Portfolio Manager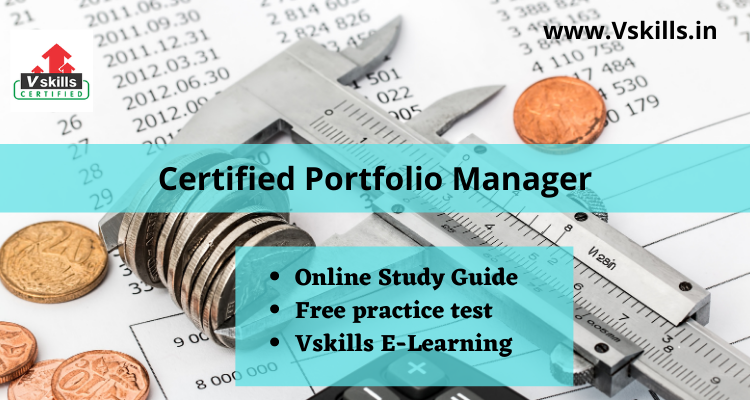 A Certified Portfolio Manager works on investing, trading, and implementing its strategies. You will directly creditable for a portfolio's development. They directly manage a client's investing accounts. They basically deal with investing, managing, and creating reports on investment activity and performance, communicate effectively with clients regarding investment accounts, market conditions, and economic trends.
Portfolio Manager: Roles and Responsibilities
A portfolio manager plays an important role in choosing the best investment plan for an individual or a company investor as per his income, age as well as ability to undertake risks. They are usually responsible for buying and selling securities in client accounts to maintain a specific investment strategy, or to reach an investment objective. To add on, they focus on maintaining new and existing client relationships, including informing clients of market conditions, updating them on investment research and economic trends, and meeting with them to discuss their portfolio performance and investment objectives.
Vskills Certified Portfolio Manager
With the Vskills Certified Portfolio Manager, you will be able to develop all the relevant skills and knowledge required. To add on, you will be able to read and understand all the SEBI rules and regulations and implement them before making an investing decision. Furthermore, you will be able to evaluate the performance of investment portfolios and ensuring compliance with standards.
Benefits of Certification
A Certified Portfolio Manager job is a roller coaster ride, you are required to work with the daily ups and downs of the market.
With the Vskills Certified Portfolio Manager, you will able to acquire the skills and knowledge to find employment in good companies.  Also, you can work with the top companies such as JP Morgan Chases and Co., Credit Suisse, Morgan Stanley, Goldman Sachs, etc.
Vskills being India's largest certification provider gives candidates access to top exams as well as provides after exam benefits. This includes:
The certifications will have a Government verification tag.
The Certification is valid for life.
Candidates will get lifelong e-learning access.
Access to free Practice Tests.
Test Details
Exam Duration: 60 minutes
Number  of questions: 50
Maximum marks: 50
Passing marks: 25 (50%).
There is NO negative marking in this module
It is an online examination

Course Outline
Preparatory Guide for Portfolio Manager Certification
Preparing with the right and authentic resources is the key to clear any exam. Moreover, you need consistency and determination throughout your journey towards the exam. Further, you must follow a study pattern while learning from authentic and genuine resources. This Preparatory Guide will act as a bridge for your career advancements. Let's discuss step by step:

Study Resource: Exam Objectives
Before preparing for any examination, it is important to know the exam related details and topics. This will help candidates to easily start preparing for the exam. Also, for the Vskills Certified Portfolio Manager, the exam topics to refer to are:
Introduction to Portfolio Management
Investment Policy
Capital Market Expectations
Asset Allocation: Policies and Procedures
Capital Market Theory
Portfolio Analysis
Portfolio Revision
Measuring and Evaluating portfolio performance
Equity Portfolio Management
Fixed Income Portfolio Management
Study Resource: Vskills E-Learning
For the Vskills Portfolio Manager examination, our team has provided online study material. Also, this online material for this is regularly updated. Furthermore, e-learning is bundled with hard copy material which helps candidates to improve and update the learning curve for superior and better opportunities.
Study Resource: Reference Books
Books are man's best friend. It is important to prepare for the right books. To ease out your hunt for books we have provided a list of books which you can refer to:
Optimizing Corporate Portfolio Management
 Portfolio Management for New Products: Second Edition
Study Resource: Practice Test
After studying for the examination, it is important to practice sample papers. Practicing sample test will help you analyze your weak areas and strengths. Moreover, you will be able to improve your answering skills that will result in saving a lot of time. So, make sure to find the best practice sources.
Prepare for your upcoming job interview with Vskills latest online interview questions, these questions will help beginners and professionals. Checkout now !