The Vskills Certified Penetration Testing Professional program teaches the candidate how to perform an efficient penetration test in an enterprise network environment that necessity is attacked, exploited, evaded, and protected. The certification is all about helping learners master their pen test abilities by putting them to use on live cyber ranges. The Certified Penetration Testing Professional course includes topics such as Kali Linux Basics, Essential Terminal Commands, Information Gathering Tools, etc.
Responsibilities of a Certified Penetration Testing Professional
Conducting Tests on Networks and Applications
Physical Security Assessments
Conducting Security Audits
Analyzing Security Policies
Writing Security Assessment Reports
Exam Overview
Penetration testing also called pen testing or ethical hacking is the practice of testing a computer system, network, or web application to find security vulnerabilities that an attacker could exploit. Penetration testing can be automated with software applications or performed manually. This course is intended for professionals and graduates wanting to excel in their chosen areas. It is also well suited for those who are already working and would like to take certification for further career progression. Earning Vskills Penetration Testing Professional Certification can help candidate differentiate in today's competitive job market, broaden their employment opportunities by displaying their advanced skills, and result in higher earning potential.
Vskills being India's largest certification provider gives candidates access to top exams as well as provides after exam benefits. This includes:
Become Government Certified Professional!
The Certification is valid for life.
Candidates will get lifelong e-learning access.
Access to free Practice Tests.
Candidates will get tagged as 'Vskills Certified' On Monsterindia.com and 'Vskills Certified' On Shine Shine.com.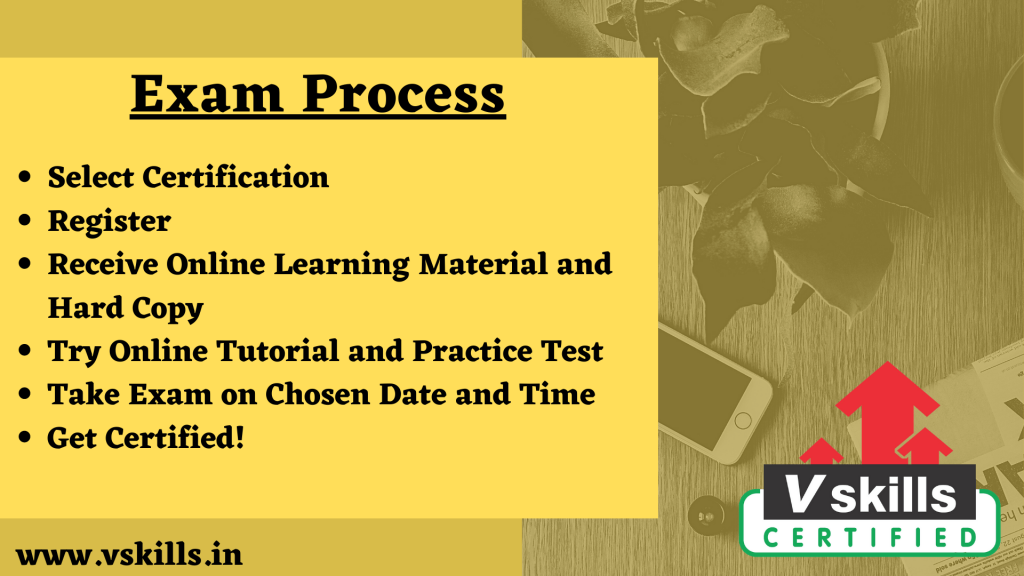 Exam Details
Exam Duration: 60 minutes
Vskills Exam Code: VS-1551
Number of questions: 50
Maximum marks: 50
Passing marks: 25 (50%)
Exam Mode: Online
There is NO negative marking in this module.
Course Outline
Vskills Certified Penetration Testing Professional exam covers the following topics –
Kali Linux Basics
Lab Setup
Download and Install VMware Workstation
Download Windows and Kali Linux
Installation of Windows and Kali Linux
Update the Kali Linux Operating System
Essential Terminal Commands
File Commands
Directory Commands
Chain Commands
Manage Services
Information Gathering Tools
Using the NetDiscover Tool
Using the Nmap Tool
Using the Sparta Tool
Using the Maltego Tool
Using the Recon-NG Tool
Vulnerability Analysis Tools
Using the Burp Suite Tool
Using the ZAP Tool
WordPress Scanning Using WPScan
Nessus Installation
Vulnerability Analysis Using Nessus
Analyze the Web Using HTTrack
Database Hacking Tools
Using the SQLite Tool
Using the Sqlmap Tool
Using the JSQL Tool
Using SQLsus
Password Cracking Tools
Using Crunch Commands
Using John the Ripper Tool
FTP Setup
Using Hydra
Using Medusa
Using Ncrack
Man-in-the-Middle Attack or Sniffing Tools
Using the MAC Changer Tool
Using the Wireshark Tool
Using the Ettercap Tool
Using MITMProxy and Driftnet Tool
Social Engineering Attack Tools
Phishing Attack Using SET
Trojan Attack Using SET
Using the Maltego Tool
Using Browser Exploitation Framework
Wireless Hacking Tools
About Wireless Adapter
Start Monitor Mode
Hack WEP Using the Fern Tool
Create a Dictionary
Hack WPA/WPA2/WPA2-PSK
Exploitation Techniques
Metasploit Basics
AV Bypass Frameworks
Bypass Target Defender
Bypass Target Antivirus
Post-Exploitation Techniques
Meterpreter Commands
Insert Keylogger
Privilege Escalation
Stealing Login Credentials
PenTest Reporting Tools
Using Leafpad
Using CutyCapt
Using Faraday IDE
Using recordMyDesktop
Preparation Guide
Candidates brewing for the Certified Penetration Testing Professional exam should recognize the importance of exam resources. During the exam preparation, it is important to get all the necessary exam study sources. This will provide the benefit to understand the concepts and meaning more precisely. In the preparation guide, we will review some of the most significant resources to help the candidate prepare well for the exam.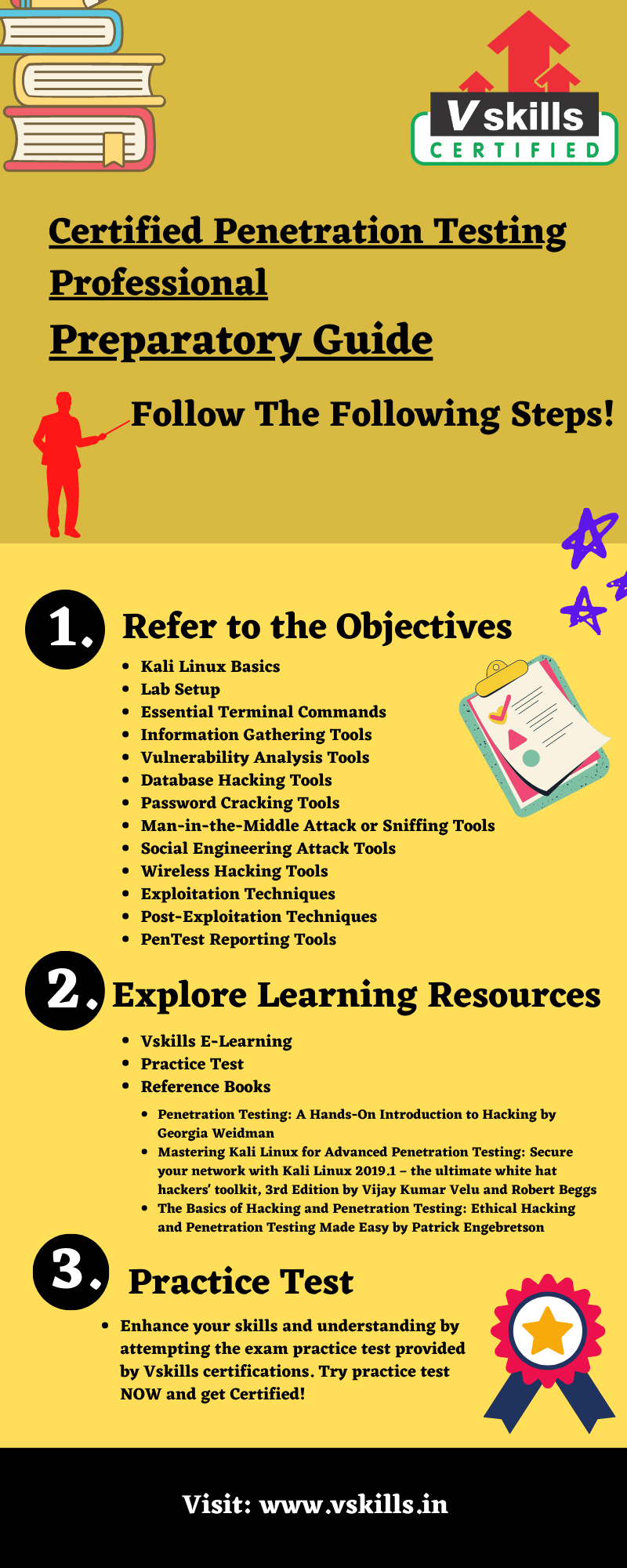 Exam Objectives
For every examination, the first task should be to get all the exam relevant details including the important contents and its topic. With complete exam objectives, the candidate's exam preparation time is better spent because they already know what to study. For this exam, the topics include:
Kali Linux Basics
Lab Setup
Essential Terminal Commands
Information Gathering Tools
Vulnerability Analysis Tools
Database Hacking Tools
Password Cracking Tools
Man-in-the-Middle Attack or Sniffing Tools
Social Engineering Attack Tools
Wireless Hacking Tools
Exploitation Techniques
Post-Exploitation Techniques
PenTest Reporting Tools
Vskills Online Learning Material
Vskills provides candidates a way to prepare for the exam using the online learning material for existence. The online material for this is regularly updated. Moreover, e-learning is bundled with hard copy material which encourages candidates to enhance and update the learning curve for superior and better opportunities. The candidate can also download the sample chapter for the Certified Penetration Testing Professional exam.
Books for Reference
The next step in the preparatory guide should be books and study guides. The candidate needs to find those books which are enriched with information. Finding a good book may be a difficult task, but in order to gather knowledge and skills, the candidate has to find, read, and understand. The candidate can try the following:
Mastering Kali Linux for Advanced Penetration Testing: Secure your network with Kali Linux 2019.1 – the ultimate white hat hackers' toolkit, 3rd Edition by Vijay Kumar Velu and Robert Beggs
Penetration Testing: A Hands-On Introduction to Hacking by Georgia Weidman
The Basics of Hacking and Penetration Testing: Ethical Hacking and Penetration Testing Made Easy by Patrick Engebretson 
Practice Test
Practice tests are the one who ensures the candidate about their preparation for the exam. The practice test will help the candidates to acknowledge their weak areas so that they can work on them. There are many practice tests available on the internet nowadays, so the candidate can choose which they want. Try the practice test here!