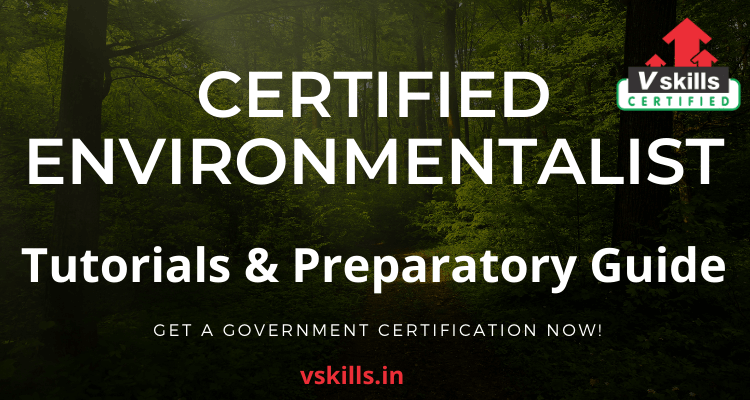 The management of environmental risk is very significant for the development of an organisation. Certified Environmentalists are important for the organisation them to carry out their activities in a sustainable way regarding environment. They are concerned with the environmental aspects of Corporate Social Responsibility (CSR). Moreover, they should ensure that the natural resources are used in the most efficient manner in order to reduce environmental impacts.
Role and Responsibilities of a Certified Environmentalist
Corporate companies are expected to carry out their operations in a manner that protects the environment. Also, going beyond the business activities for environmental concerns brings in various business benefits. Certified Environmentalists play a key role in ensuring compliance to regulation and government policies. They must have excellent written and oral communication skills. Also, they should have high analytical abilities to solve problems quickly with advanced conflict resolution skills. Their responsibilities include:
Firstly, oversee the business activities and report hazardous locations and materials
Then, maintain management information system which keep a track of these investigations
Further, develop and recommend solutions to eliminate environmental hazards
Also, Perform research and report the findings on the environmental conditions to their team.
Moreover, Implement effective training programs for employees
Vskills Certified Environmentalist Overview
Vskills certification for Certified Environmentalist validates your skills and expertise as per the company's need for managing environmental compliance, CSR and programs. It assess you on various areas in environmental pollution, waste management, policies and legal aspect, methods, tools and techniques, EIA, EMS, ISO 14000, environmental ethics, WTO and environmental issues.
Why become a Vskills Certified Environmentalist?
Companies have discovers the competitive advantage from taking environmental initiatives. The demand for Certified Environmentalists has seen a huge rise sue to growing awareness. Companies specializing in CSR or environment sustainability are constantly hiring skilled environmental managers. Various public and private companies also need environmental managers for their CSR or environmental or sustainability departments. This certification unlocks various new opportunities for you and helps you excel in your career. Moreover, earning a Vskills Certification guarantees the following:
Firstly, a Government verification tag
Also, this certification will have lifetime validity.
Further, you will get Lifelong e-learning access.
Moreover, you get access to Free Practice Tests.
Additionally, You will get tagged as 'Vskills Certified' On Monsterindia.com and 'Vskills Certified' On Shine.com.
Exam Details
Exam Code: VS-1181
Duration: 60 minutes
No. of questions: 50
Maximum marks: 50
Passing marks: 25 (50%).
There is NO negative marking
This is an Online exam
Exam Process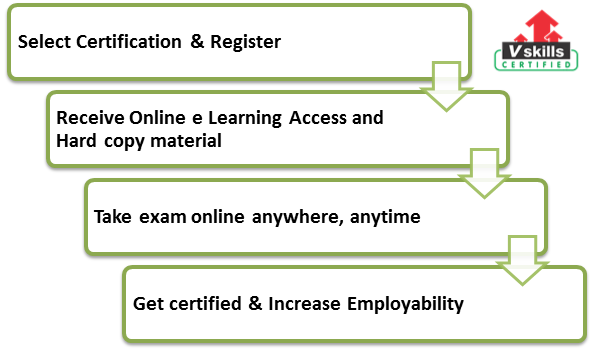 Career as an Environmentalist
Environmentalists, also known as Environmental Scientists, Conservationists, and Preservationists, are professionals who are knowledgeable about and concerned about environmental preservation. He is a professional who strives to preserve all aspects of the environment from pollution and its consequences, including the air, water, animals, plants, and other natural resources. Let us know about Career as an Environmentalist!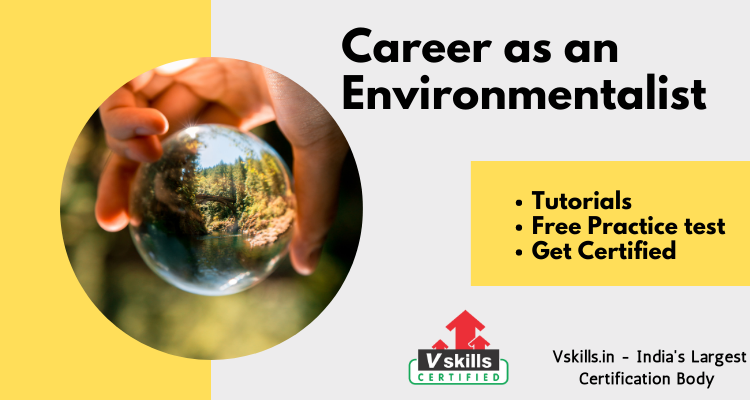 Course Outline
This exam covers the following topics:
Environmental Management Introduction
Introduction
Sustainable Development
Stakeholder Concept
Environmental Problems
Concept of Environment and Environmental Management
Environmental Resources
Environmental Conflict
Environmental Accounting
Carbon Management
Environmental Pollution
Pollution
Air Pollution
Water Pollution
Soil Pollution
Marine Pollution
Noise Pollution
Thermal Pollution
Nuclear Hazards
Environmental Protection Strategies
Waste Management
Introduction
Disposal Methods
Avoidance and Reduction Methods
Waste Handling and Transport
Waste Management Concepts
Education and Awareness
Biomedical Waste
Hazardous Waste
Mixed Waste (Radioactive/Hazardous)
Toxic Wastes
Goals of Waste Management
Policies and Legal Aspect
Introduction
Stockholm Conference
The Earth Summit Agreements
Environmental Governance In India
Indian Environmental Protection and Fundamental Rights
India's International Obligations
Environmental Audit Statements Rules
Public Participation
Methods, Tools and Techniques
Basics
Data
Standards, Indicators and Benchmarks
Setting Goals and Objectives
Sustainable Development Indicators
Monitoring
Surveillance
Modeling
Environmental Auditing
Environmental Risk Management
Social Impact Assessment
Livelihoods Assessment
Tools Used
Environmental Impact Assessment (EIA)
Introduction
Definition
Planning
Relevance
Significance
Inputs and Outputs of the EIA Process
EIA Methods and Techniques
EIA Practices In India
Future Trends In Environment Impact Assessment
Indian Industrial Response
Introduction
Regulatory and Economic Instruments
Corporate Environmental Responsibility
Environmental Reporting Practices in India
Environmental Management System
Introduction
Goals
EMS Benefits
Features
EMS Model
EMS Process
Levels of EMS Implementation
ISO 14000 and Environmental Management Systems
Introduction
Need
To Whom Does The Standard Apply?
Where Do The Standards Apply?
What Does The ISO 14000 Series Cover?
Benefits of ISO 14000
Steps In ISO 14000 Certification Process
ISO Definitions
Environmental Ethics
Introduction
Development of Environmental Ethics
Ethical Theories
Environmental Ethics In Spirituality
Fundamental Concerns
The Ethical Dilemma
Environment and Technology
Human Life and Its Environment
The Challenge of a World Environmental Ethics
WTO and Environmental Issues
Introduction
The World Trade Organization (WTO)
Trade and Environment
General Agreement on Trade In Services (GATS)
Trade and Environmental Milestones
Reconciling Trade With Environment
Environmental Concerns And WTO
Public Participation
Case Studies
Ashok Leyland's ISO 14001 Journey
Critical Skills Needed To Be A Successful Environmental Professional In The Global "Green" Economy
Solid Waste Disposal
Karnataka Integrated Rural Water Supply and Environmental sanitation Project, Mysore District
Preparation Guide: Certified Environmentalist
Now that we have all the details in hand lets move further and gather all expert resources to begin our preparation. This preparatory guide is designed to set you on the right track. Follow the guide to kick start your preparations and achieve this much valued credential.
Step 1- Deeply Analyse the Exam Objectives
You should always start your preparations by analysing the exam objectives. Course Outline is the most crucial part of the examination. It covers descriptive details about the exam objectives This is to help candidates prepare for the exam by identifying specific content within each topic that may be tested. This certification exam includes the following topics:
Environmental Management Introduction
Environmental Pollution
Waste Management
Policies and Legal Aspect
Methods, Tools and Techniques
Environmental Impact Assessment (EIA)
Indian Industrial Response
Environmental Management System
ISO 14000 and Environmental Management Systems
Environmental Ethics
WTO and Environmental Issues
Case Studies
Step 2- Choose the Right Resources
You should be very careful while choosing the resources as they will determine actually how well you will pass the exam. There are numerous resources that can be used for preparation. Making a wise choice is often difficult. Vskills offers you its own E-Learning and Study material to assist your preparations Moreover, it offers lifetime access to these resources. Also, they are constantly updated to provide you with the latest exam updates. Vskills also offers candidates their hard copy material that will help them in improving skills and enriching their knowledge.
Refer: Vskillls Certified Environmentalist Sample Chapter
Step 3- Prepare the Traditional Way through Books
Preparation for any exam without books seems unreasonable and unproductive at the same time. So, you should also search for relevant and credible books by expert authors for your exam preparation. Books are a comprehensive source of information for candidates to prepare for the exam. You can access a detailed explanation of various concepts. Therefore include the following books in your preparation journey:
Environmental Certification for Organisations and Products by by Tiberio Daddi, Fabio Iraldo, Francesco Testa
This Changes Everything by Naomi Klein
Afterburn: Society Beyond Fossil Fuels by Richard Heinberg
Step 4- Self-Evaluate with Practice Tests
Your practice is an important determiner of how well you pass the exam. Also, Take as many practice tests and test series as you can. They will help you in determining the level of your preparation, identify your loopholes and identify the weak portions you need to work more upon. Moreover, attempting multiple practice tests will boost your confidence. Self-Evaluate your preparations Now!

Job Interview Questions
If you are looking to crack your job interview in first attempt, then you must check out these interview questions. The sole purpose of these questions is to assist you in your job preparation.

Elevate your career by becoming a Government Certified Environmentalist. Start Your Preparations Now!