A Data Entry Operator is employed to enter or update data into the computer database. You will be responsible for organizing files, collecting and managing data to be entered into the computer. A successful Data Entry Operator will be responsible for maintaining accurate, up-to-date and useable information in the organisation's systems. Given the highly competitive market earning a professional certification will help you distinguish from the crowd. The Certified Data Entry Operator certification will definitely help you grab higher paying jobs and broaden your knowledge horizon.
Target Audience
Data is a crucial part of every organisation. Therefore this certification I indented for all Job seekers looking to find employment as data entry operator of various companies. Also, students generally wanting to improve their skill set and make their CV stronger can take this certification. Moreover, existing employees looking for a better role can prove their employers the value of their skills through this certification.
Vskills Certified Data Entry Operator : Exam Overview
Vskills Certified Data Entry Operator will validate your skills as per the needs of organization of data entry operators. It will prove you competencies to enter data into a computer and operate a variety of general office use software for the purpose. Moreover, this certification assesses you on various areas which include methods to ensure correct and fast data entry and usage of MS-Office software.
Becoming a certified professional brings wonders to your career opportunities. If you are working as a data entry operator and are looking for a new job or promotion then this certification can prove your expertise in this field. It works as an added qualification on your CV and significantly improves your chances of getting the desired role. Moreover, becoming a Vskills certified professional will offer the following benefits:
Become a Government Certified Professional.
Also, Certification will have lifetime validity.
Further, you will get Lifelong e-learning access.
Moreover, you get access to Free Practice Tests.
Additionally, You will get tagged as 'Vskills Certified' On Monsterindia.com and 'Vskills Certified' On Shine.com.
Role and Responsibility
A Certified Data entry operator must have excellent attention to detail and Ability to multitask effectively. Moreover, strong written and verbal communication skills as well as Ability to perform repetitive tasks with a high degree of accuracy are also preferred. Their responsibilities include:
Firstly, Entering customer and account data from source documents within time limits
Secondly, Compiling, verifying accuracy and sorting information to prepare source data for computer entry
Then, Reviewing data for deficiencies or errors, correcting any incompatibilities and checking output
Also, Insert customer and account data by inputting text based and numerical information from source documents within time limits
Further, Compile, verify accuracy and sort information according to priorities to prepare source data for computer entry
Moreover, Apply data program techniques and procedures
Additionally, Comply with data integrity and security policies
Finally, Ensure proper use of office equipment and address any malfunctions
Career as a Data Entry Operator
The demand for data entry operators is increasing as every workplace and company strives to become computerised. Data entry operators are in charge of entering the necessary information into the computer. They typically operate in an office environment, using a computer and other electronic tools. Let us look at Career as a Data Entry Operator!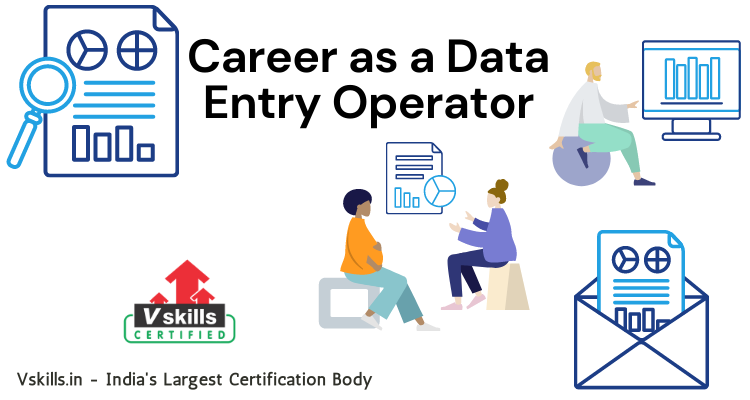 Exam Details
Exam Code: VS-1014
Duration: 60 minutes
No. of questions: 50
Maximum marks: 50
Passing marks: 25 (50%).
There is NO negative marking
This is an Online exam.
Exam Process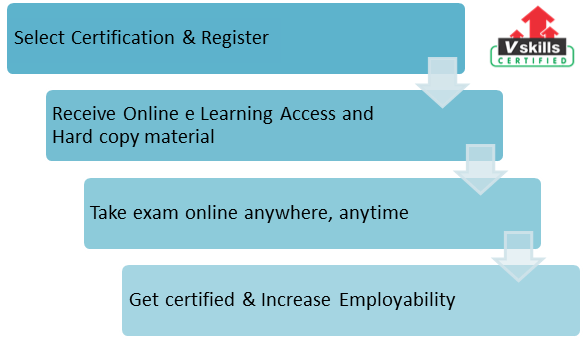 Course Outline for Certified Data Entry Operator
This exam covers the following topics:
Preparatory Guide for Certified Data Entry Operator
The level of preparation will determine how well will you perform in the exam. To ace the exam, you need to choose the best set of resources suited to your type and your level of understanding. Look no further as we present you our step by step preparatory guide. Resources in the guide will help you refresh your skills and concepts related to the exam while keeping you on the right track.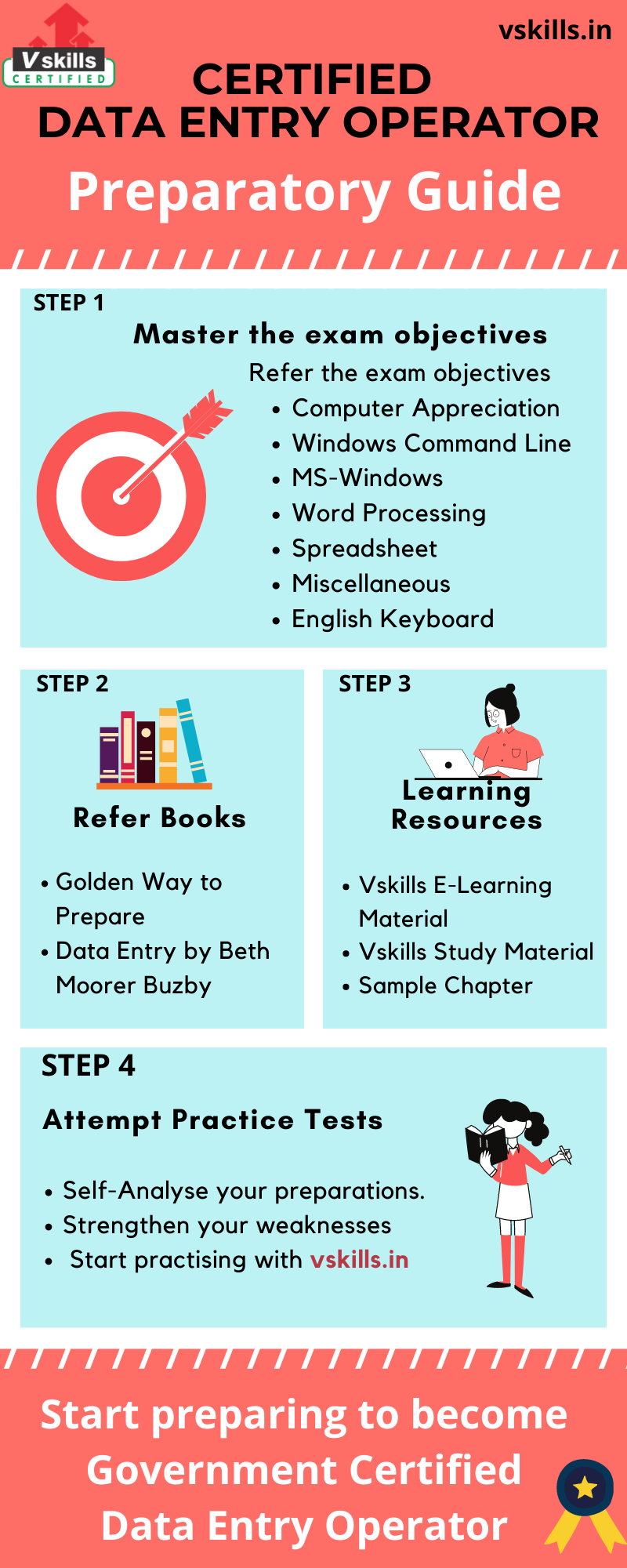 Step 1- Master the Exam Objectives
Firstly start off by with the exam objectives. Familiarise yourself with all the objectives and course domains of the exam. Devote enough time to each topic and have in depth knowledge of the subject. Moreover, this will also result in strengthening your preparation. Also, tailor your study plan around these objectives to study effectively. The topics covered in this exam are:
Computer Appreciation
Windows Command Line
MS-Windows
Word Processing – MS-Word 2013
Spreadsheet – MS-Excel 2013
Miscellaneous
English Keyboard
Step 2- Learn with Books
Books are a golden resource while preparing for an exam. They provide wealth of information and clarity about the exam objectives. Most important of all, you can find real-time examples of different concepts. In addition, books are also useful for cross-referencing and verifying the authenticity of the information from other learning resources. Moreover, select relevant and credible books by expert authors for your exam preparations. Here ar a few books you can choose from:
Firstly, DATA ENTRY OPERATIONS by GAURAV SAHNI
Secondly, Domestic Data Entry Operator by NCERT
Thirdly, Data Entry by Beth Moorer Buzby
Step 3- Choose your Learning Resources wisely
We cannot stress enough that only choosing the right learning resources will allow you to understand each and every domain properly. Not only will this provide you with a stronger base that will help you qualify, but also this will provide you with that confidence among your peers. So remember to make a wise choice and refer authentic resource. To make your preparations easier Vskills offers its own E-Learning and Study Material. These study resources are updated regularly and are an information goldmine. hey supplement your learning and bridge the gap towards your certification.
Step 4- Its time to Practice
Finally, we're on the last step for the preparatory guide. Further, this final step will give the candidate the exact insight of the topics in which they're lacking. So, make sure you're going through practice tests after you have gone through the entire syllabus. Most importantly, these tests familiarise you with the real exam environment. You get to practice your accuracy and speed. Moreover, attempting multiple practice tests will boost your confidence. Try outperforming yourself with each subsequent test. Get Ready to Self Evaluate your preparations with free Practice Tests now!

Prepare for Job Interview
If you are looking for a job in data entry, then you must checkout these interview questions, which can help you to succeed in the job interview, checkout now !
Demonstrate your skills and get ready to become Certified Data Entry Operator. Start your Preparation Now!