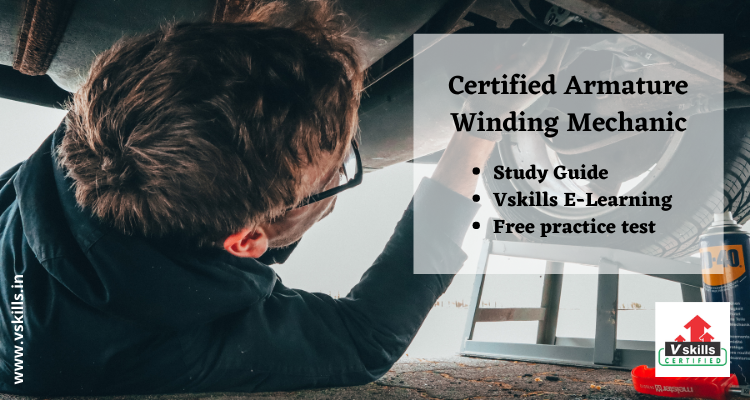 The Armature Winding Mechanic Certification is designed by Vskills to help you develop expertise in Armature Winding. To add on, since Vskills has developed a new strategic framework for Skill Development for early school leavers and existing workers, especially in the unorganized sector to improve their employability called Trade Employable Skills (TES). This certification will definitely will be a great add-on in your resume and help you get job opportunities.
Armature Winding Mechanic: Roles and Responsibilities
As an Armature Winding Mechanic you will be working on examining and testing wires and electronic components such as motors, armatures, and stators, using measuring devices, and record test results for further research and report. Also, you will be recording production and operational data on specified forms. Moreover, you will repair, assemble, and maintain the motors of various objects as required. To become a successful Armature Winding Mechanic you will be required to develop a lot of skills.
Vskills Certified Armature Winding Mechanic
With the Vskills Armature Winind Mechanic Certification, you will be able to develop all the relevant skills and knowledge, This certification will help you in getting job opportunities. To add on, candidates already working as an Armature Winding Mechanic can also take this certification as it will help them in brushing their skills and will enhance their existing knowledge. Also, this is a Trade Employable skill certification, these Skills does effective assessment and certification of candidates in different trade disciplines like Electrical, Electronics, Agriculture, Chemical, Automobile, IT, etc to make them job-ready.
Vskills being India's largest certification provider gives candidates access to top exams as well as provides after exam benefits. This includes:
The certifications will have a Government verification tag.
The Certification is valid for life.
Candidates will get lifelong e-learning access.
Access to free Practice Tests.
Test Details
Exam Duration: 60 minutes
Number  of questions: 50
Maximum marks: 50
Passing marks: 25 (50%).
There is NO negative marking in this module
It is an online examination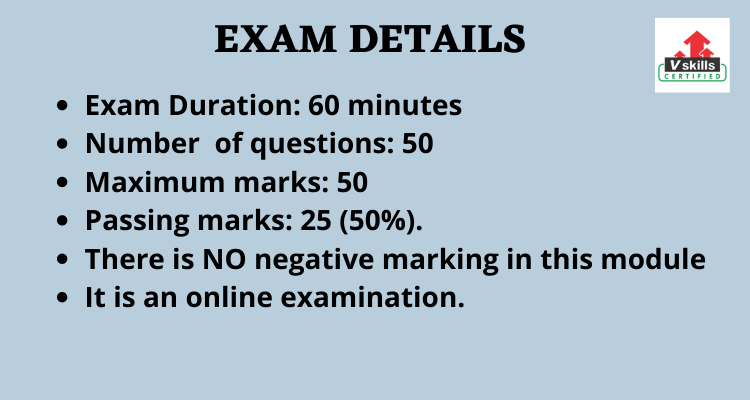 Course Outline
The Vskills Certified Armature Winding Mechanic covers the following topic:
Armature Winding
Armature Basics
Armature Insulating Materials
Classification of Insulating Materials
Forms of Insulating Materials
Insulation Materials
Plastics
Insulating Varnishes
Insulating Varnishes Types
Winding Wire
Introduction
Properties of Conductor
Choosing Conductor Material
Enamelled Wire
Grades Of Copper Enamelled Winding Wires
Properties Of Enamelled Wires
Types And Shapes Of Winding Wires
Gauge Plate
Winding Coil and Types
Details About The Winding Coil
Different Shape Of Slots
Slot Insulation
Coil Formation
Revolving ( ROTOR) Winding
Stationary ( STATOR) Winding
DC Armature Windings
Lap Winding
Wave Winding
Whole Coil Winding
Half Coil Winding
Concentrated Winding
Distributed Winding
Single Layer Winding
Double Layer Winding
Single Phase Winding
Three Phase Winding
Concentric Winding
Chain Winding
AC Machine Winding
AC Single Phase Windings
AC 3-Phase Winding
DC Machine Winding
Winding Diagram Development
Double Layer Simplex Lap Winding Diagram
Testing and Rewinding
Method of Rewinding
Winding Methods
Testing Of Armature
Insulation Resistance Test
Grower Test
Drop Test
Testing and Test Equipments
Introduction
Voltage Tester Screwdriver
Continuity Test
Insulation Testing
Measurement of Power
Preparatory Guide for Certified Armature Winding Mechanic
To help you out with your preparation we have provided you with a preparatory guide. This guide will help you in preparing for the examination. Let's get started: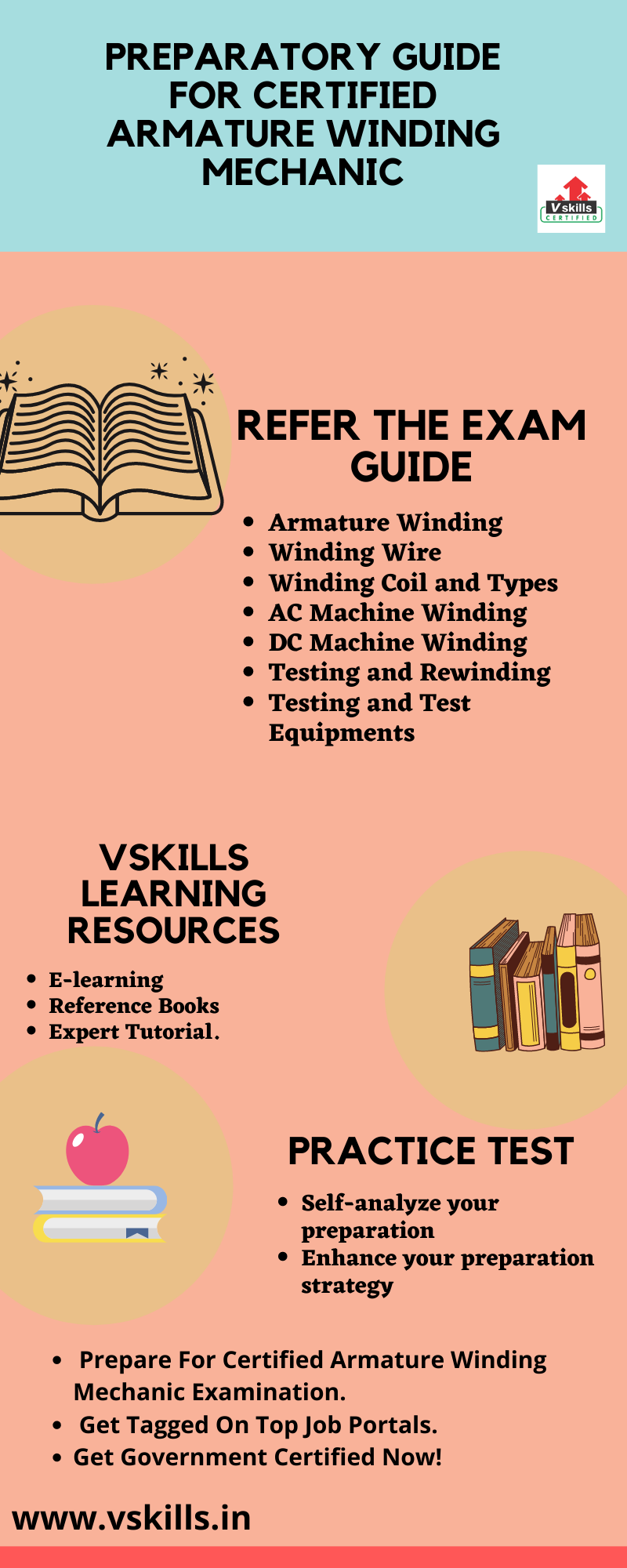 Exam Objectives
Exam objectives are very important when it comes to preparing the exam strategy. Here, we have provided you with the exam objectives:
Armature Winding
Winding Wire
Winding Coil and Types
AC Machine Winding
DC Machine Winding
Testing and Rewinding
Testing and Test Equipments
Vskills E-Learning
For the Vskills Certified Armature Winding Mechanic examination, our team has provided online study material. Also, this online material is regularly updated. Furthermore, e-learning is bundled with hard copy material which helps candidates to improve and update the learning curve for superior and better opportunities.
Reference Books
It is very important to study in the right book. There are an ample number of books available in the market for this examination. This book will help you in preparing for the examination:
Armature Winding and Motor Repair by Daniel Harvey Braymer
Armature Winding and Motor Repair: Practical Information and Data Covering Winding and Reconnecting Procedure for Direct and Alternating Current and Repair of Motors and Generators in Indu by Daniel Harvey Braymer
Study Resource: Practice Test
It is very important to practice what you have learned so that you are in a position to analyze your practice, by practicing you will be able to improve your answering skills that will result in saving a lot of time. Moreover, the best way to start doing practice tests is after completing one full topic as this will work as a revision part for you.