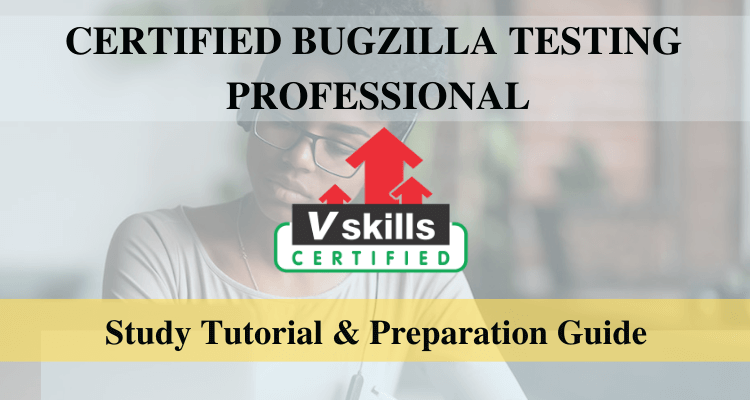 The Certified Bugzilla Testing Professional certification demonstrates candidates' proficiency in the different areas in installations, configuration, and management of Bugzilla, security LDAP Radius Corroborate use administration, milestones, flags using and personalizing Bugzilla. Bugzilla is a web rooted General purposes bug tracking and testing tool, designed and used by the Mozilla public license.
Who should take the Bugzilla Professional Certification?
The Bugzilla Testing Professional certification chiefly targets the individuals seeking employment in software testing departments. Students who want to improve their skills and make their CVs stronger can also give this exam. Also, this certification is ideal for the existing employees seeking a better role opportunity in the firm, as it adds high value to their CVs.
Roles and Responsibilities of a Certified Bugzilla Testing Professional
Below are the set of responsibilities carried out by a Bugzilla Testing Professional –
To keep track of neglected problems with their product.
To Defeat Tracking tool, although it can be used as a test management tool as it is linked with others.
To test case management tools like Quality center, test link, etc.
To communicate about the problems throughout the data management chain.
Why become Certified Bugzilla Testing Professional?
In today's time, there is a cut-throat competition in every field. The Vskills Certified Bugzilla Testing Professional certification course is designed for professionals wanting to learn skills in their respective areas and to broaden their employment or job opportunities by showcasing their advanced skills and this can result in huge financial earning as a professional. Moreover, Vskills being India's largest certification provider gives candidates access to top exams as well as provides after exam benefits. This includes:
The certifications will have a Government verification tag.
The Certification is valid for life.
Candidates will get lifelong e-learning access.
Access to free Practice Tests.
Candidates will get tagged as 'Vskills Certified' On Monsterindia.com and 'Vskills Certified' On Shine.com.
Exam Details
Exam Duration: 60 minutes
Vskills Exam Code: VS-1121
Number of questions: 50
Maximum marks: 50
Passing marks: 25 (50%)
Exam Mode: Online
There is NO negative marking in this module.
Certified Bugzilla Testing Professional Course Outline
Preparation Guide for Certified Bugzilla Testing Professional Exam
As almost every one has a penchant of studying last minute, but isn't a good way to approach an exam. Time management with proper Guidance is necessary for any exam. Last minute confusion always leads to unnecessary anxiety therefore to avoid this, a suitable study strategy is essential. This preparation guide will help you to take proper steps towards your certification without any mishaps.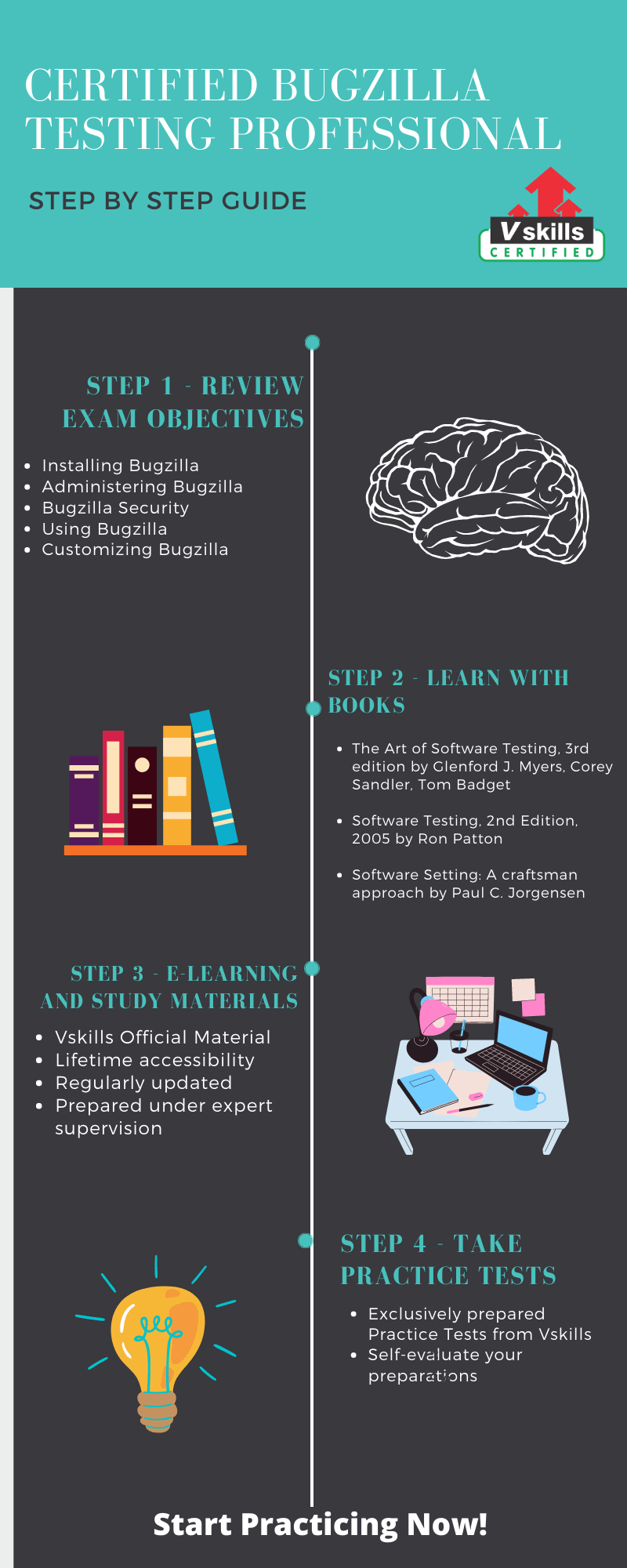 Step 1 – Review Exam Objectives
The very first step towards achieving your certification is to get all the exam relevant details including the important contents and exam objectives. This ensures that your exam preparation time is better spent by keeping you familiar with the requirements of the exam. These objectives includes –
Installing Bugzilla
Administering Bugzilla
Bugzilla Security
Using Bugzilla
Customizing Bugzilla
Refer: Certified Bugzilla Testing Professional Brochure
Step 2 – Learn the Traditional Way through Books
Studying independently on your own adds a lot of pressure, but with books the load is less. The books are the best way to go through the content in detail. Moreover, it also provides you with the knowledge which might be unavailable on internet. Therefore books are still the most essential part of any exam preparation. The top 3 best Bugzilla Testing Books that a student can refer to develop and gain knowledge and skills in the software testing field is mentioned below –
The Art of Software Testing, 3rd edition by Glenford J. Myers, Corey Sandler, Tom Badget – This book provides a brief but essential and intelligible presentation of time-proven software testing approaches. If your goal is software development then this book is the best investment.
Software Testing, 2nd Edition, 2005 by Ron Patton – This book enlightens the area of software testing and quality assurance. The book has six sections covering concepts like background testing, fundamentals of testing, and everything from web setting to security testing, compatibility testing, and automated setting.
Software Setting: A craftsman approach by Paul C. Jorgensen – This book contains strong mathematical content of the previous editions to a logical treatment of model-based testing for both code-based and specification-based setting
Step 3 – E-learning and Study material
E-learning today is the most adaptive source in learning. As it has most of the content available, it adds knowledge to a person's mind with a clearer perspective. The online availability of the exam matter helps a person understand the topics in an easy way. The explanations are given with examples that are the cherry on the cake for the candidates. Vskills offers official e-learning resources to help you prepare for this exam. These E-Learning and Study Materials by Vskills come with lifetime access, and to add more perks, they are constantly updated to provide you with the latest information.
Refer: Certified Bugzilla Testing Professional Sample Chapter
Step 4 – Check your Progress with Practice Tests
Practice Tests have proven to be one of the most effective learning techniques. As practice tests help us to built confidence, and also introduces us to different formats of the exam. Moreover, it also helps us to understand our majority of mistakes that we make while attempting the exam, thereby helping us in improving these potential mistakes. So Start practicing with free Practice Tests Now!

Job Interview Questions
If you are looking for a new job role in Bugzilla Testing, the you must checkout these online interview questions to prepare for same, the questions will surely help you to pass the interview with ease.

Elevate your chances to grab brighter career opportunities, by becoming a Certified Bugzilla Testing Professional. Start Practicing Now!