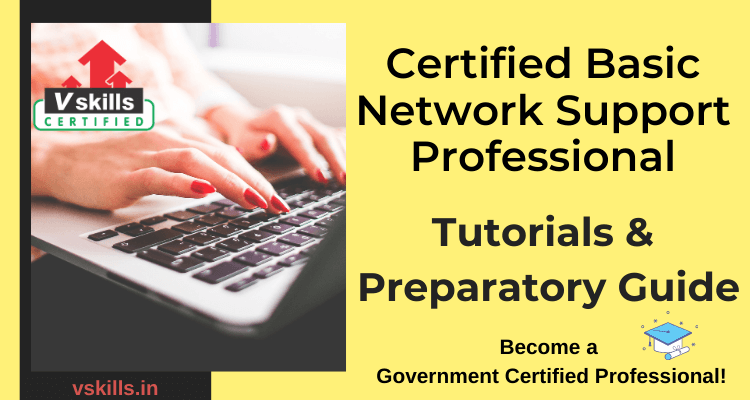 Are you looking for expert learning resources for Certified Basic Network Support Professional? Do you have aspirations of becoming a government certified professional? Then you have just arrived at the right place. This certification helps in demonstrating your overall comprehension and expertise of supporting small and medium computer networks. Moreover, it helps you advance your career prospects.
Vskills Certified Basic Network Support Professional
VSkills Basic Network Support Professional Certification holders have more than a working familiarity with networks, switches-they are technically skilled to take advantage of the breadth of features efficiently and effectively. Certification covers basics of a computer network, networking media (wired and wireless), networking devices and configuration, management and troubleshooting of switches. Basic Network Support Professionals are in great demand in IT infrastructure companies, data centers, MNCs, Corporates and Government organizations.
Who should take this certification?
This certification is intended for professionals who want to excel in their chosen domains. Being a government certified professional helps in career progression. Moreover, it is designed for hardware engineers, networking engineers and students who want to present themselves as truly knowledgeable and differentiate themselves in a competitive job market.
Benefits of becoming Certified Basic Network Support Professional
Earning Vskills Basic Network Support Professional Certification can help you gain competitive advantage over other candidates. This certification displays your professional commitment to your career and widens your employment opportunities. Further, it validates your competence, productivity, and credibility. Given the increasing demand for Basic Network Support Professional in the international market and government projects, this certification becomes all the more desirable.
Moreover, becoming a Vskills certified professional provides you with the following advantages:
The certifications will have a Government verification tag.
The Certification is valid for life.
Lifelong e-learning access.
Access to Free Practice Tests.
You will get tagged as 'Vskills Certified' On Monsterindia.com and 'Vskills Certified' On Shine.com.
Roles and Responsibilities
A Basic Network Professional play a key role in maintaining the systems that allow organisations to function and communicate, both internally and externally, on a daily basis. Regardless of the domain they work in they'll be responsible for the following:
To begin with, Installing new hardware and Installing new software
Then, Setting up user accounts, permissions and passwords
Also, Overseeing security of all systems, especially the internet, and installing antivirus protection
Moreover, Fixing network faults and  Network maintenance
Further, Technical support for people using the network
Additionally, Training staff on new systems
Day to day admin and monitoring of network use
Likewise, planning future improvements, suggesting IT solutions to business problems
Finally, supervising helpdesk staff If you choose to work for a large company, it's likely you'll have a designated area of the network to work on; if you work for a smaller company you'll probably be in charge of the entire network.
Career as a Network Support Engineer
Network Support Engineer are IT specialists who guarantee that a company's network runs smoothly and safely. They may be part of an in-house support team or a third-party support team. Let us discover Career as a Network Support Engineer!
Exam Details: Certified Basic Network Support Professional
Exam Code: VS-1034
Duration: 60 minutes
No. of questions: 50
Maximum marks: 50, Passing marks: 25 (50%).
There is NO negative marking in this module.
Online exam.
Exam Process
Course Outline: Certified Basic Network Support Professional
This exam covers the following topics
Preparation Guide for Certified Basic Network Support Professional
Government recognised certification help you gain a competitive edge over other candidates. Moreover, earning a professional certification enhances your employability and demonstrates your capability. You need to study and prepare well for this exam. The Preparatory Guide keeps you loaded with the right resources and bridges the gap for your dream job. This guide is surely your way ahead to crack the exam and pass it with flying colours.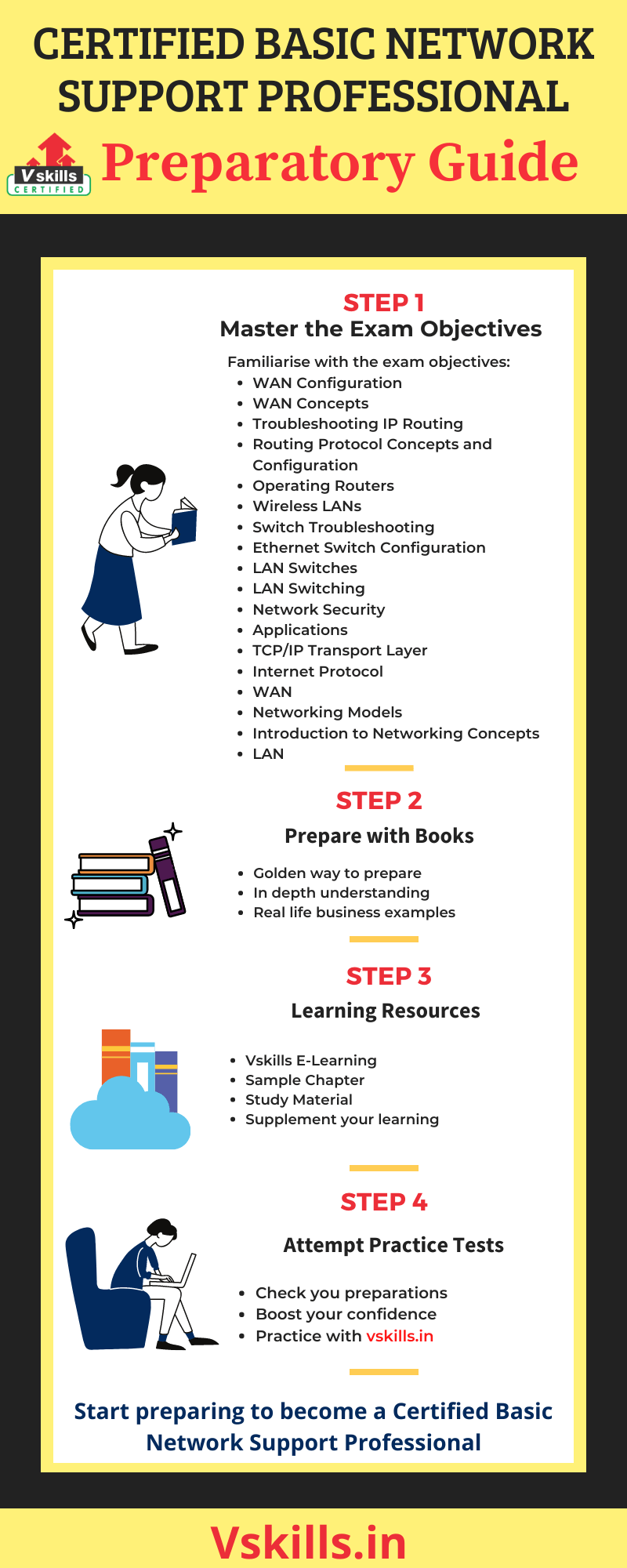 Step 1- Refer the Exam Objectives
A denser look at each and every domain of the Microsoft 70-779 exam can give a further indication regarding the aspirations of the exam. Therefore you must master all the exam objectives and have utmost clarity about the exam course and concepts. Moreover, you should tailor your study plan around these domains to ace the Certified Basic Network Support Professional exam. The exam objectives are:
WAN Configuration
WAN Concepts
Troubleshooting IP Routing
Routing Protocol Concepts and Configuration
Operating Routers
Wireless LANs
Switch Troubleshooting
Ethernet Switch Configuration
LAN Switches
LAN Switching
Network Security
Applications
TCP/IP Transport Layer
Internet Protocol
WAN
Networking Models
Introduction to Networking Concepts
LAN
Refer: Certified Basic Network Support Professional Brochure
Step 2- Books to your Rescue
Preparations for an exam are incomplete without books. You must search for relevant and credible books by expert authors to gain in depth information of the exam topics. Most important of all, you can find real-time examples of the different concepts you learn for this certification exam. As a result, you can strengthen your knowledge about the application of these different concepts. We suggest you to include the following books in your preparation journey
To begin with, Computer Networking: A Top-Down Approach (6th Edition)
Then, Networking All-in-One For Dummies
Also, The Complete Guide to LAN Switching Technology (2nd Edition)
Moreover, Routing TCP/IP, Volume I (2nd Edition)
FurtherRouting TCP/IP, Volume II (2nd Edition)
Step 3- Refer E-Learning and Study Material
To help you excel in the exam Vskills offers you its own E-Learning Study Material and official resources. These resources keep you on the right track and provide you lifelong access. Also, the resources are updated regularly and provide you wealth of information. Moreover, these resources are meant to supplement your learning experience and exam preparation They help in building the strong conceptual portions and in clearing the doubts.
Refer: Certified Basic Network Support Professional Sample Chapter
Step 4- Its time for Practice
Your practice is an important determiner of how well you pass the exam. Also, Take as many practice tests and test series as you can. They will help you in determining the level of your preparation, identify your loopholes and identify the weak portions you need to work more upon. Most importantly, all the practice tests are designed to encounter the real exam environment around you. However, practice papers can be from various sources. Above all, remember the more you test yourself the better you're going to become. Lets Start Practising Now!

Job Interview Preparations
Prepare for your upcoming job interview with our latest interview questions, these questions are created by experts to you and makes you more knowledgeable.
Elevate your career by qualifying Certified Basic Network Support Professional exam. Start Your Preparations Now!