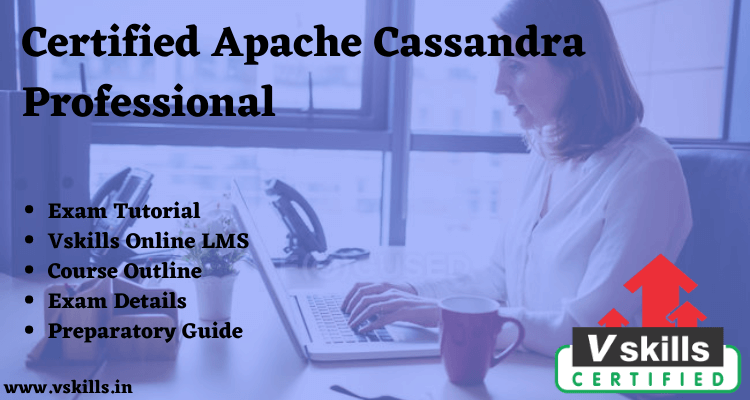 Apache Cassandra is one of the top most NoSQL databases which has traits of both Google Bigtable as well as Amazon DynamoDB. Most of the prominent organizations globally already affirmed the Cassandra database and working in production. The Vskills certification is for professionals that work Apache Cassandra clusters to achieve data. This involves roles such as application developers, database designers, data architects, and database administrators. Learning Cassandra will assist the aspirant to become a specialist in data management. In this Certified Apache Cassandra Professional certification, the candidate will learn to build a database and how to insert, delete & update data. The candidate will also learn notions like nodes.
Vskills Certified Apache Cassandra Professional: Exam Overview
The Certified Apache Cassandra Professional course is designated for professionals and graduates aspiring to excel in their chosen fields. It is also well satisfied for those who are previously working and would like to take the certification for career further progression. Meriting Vskills Certified Apache Cassandra Professional certificate can assist the candidate to differentiate in today's competitive job market, expand their employment possibilities by promoting their advanced skills, and result in higher earning potential.
Vskills being India's largest certification provider gives candidates access to top exams as well as provides after exam benefits. This includes:
Get a Government Certification tag.
The Certification is valid for life.
Candidates will get lifelong e-learning access.
Access to free Practice Tests.
Candidates will get tagged as 'Vskills Certified' On Monsterindia.com and 'Vskills Certified' On Shine Shine.com.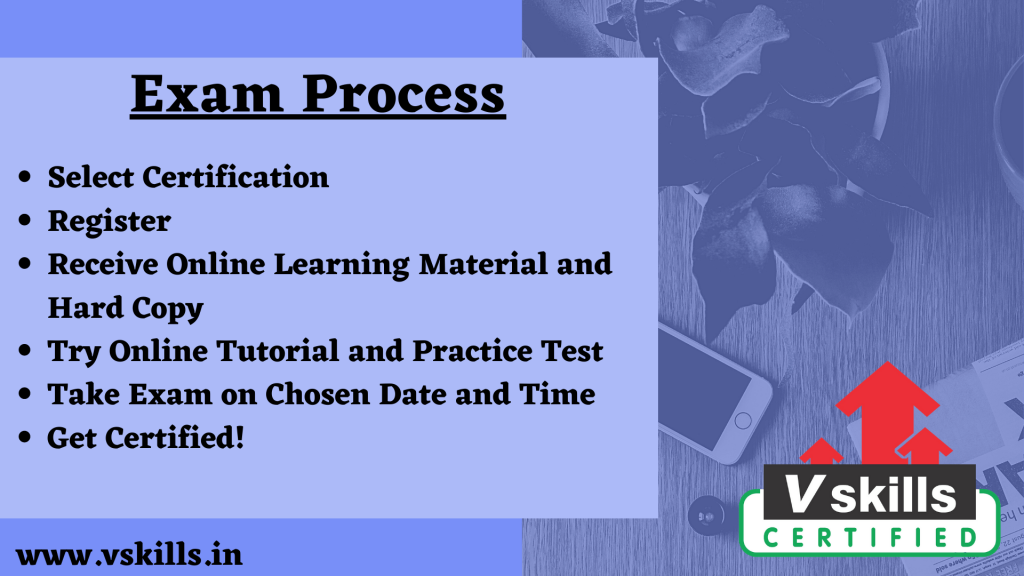 Exam Details
Exam Duration: 60 minutes
Vskills Exam Code: VS-1046
Number  of questions: 50
Maximum marks: 50
Passing marks: 25 (50%)
Exam Mode: Online
There is NO negative marking in this module.
Career in Apache Cassandra
In the year 2008, Apache Cassandra was founded as an Apache Software Foundation project based on Google code. Cassandra is an open-source NoSQL distributed database management system that is designed to handle massive quantities of data while maintaining excellent database performance and availability. Let us know about Career in Apache Cassandra!
Course Outline for Certified Apache Cassandra Professional
Certified Apache Cassandra Professional covers the following topics –
Preparation Guide for Certified Apache Cassandra Professional
Candidates preparing for the exam should understand the importance of exam resources. During the exam preparation, it is necessary to get all the required exam study resources. This will give the advantage to understand the concepts and meaning more accurately. In the Certified Apache Cassandra Professional preparation guide, we will discuss some of the most important resources to help you prepare well for the exam.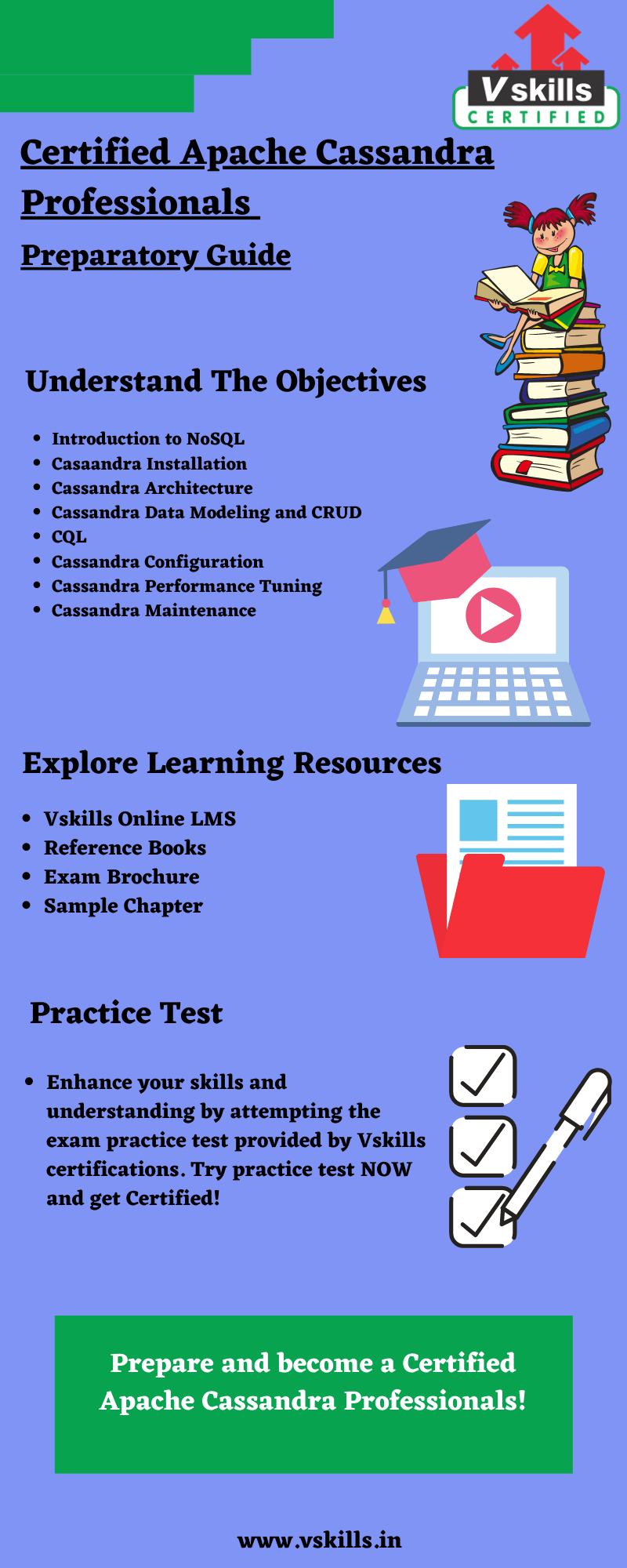 Exam Objectives
For every examination, the first task should be to get all the exam relevant details including the important contents and its topic. With complete exam objectives, the candidate's exam preparation time is better spent because they already know what to study. For the Certified Apache Cassandra Professional exam, the topics include:
Introduction to NoSQL
Casaandra Installation
Cassandra Architecture
Cassandra Data Modeling and CRUD
CQL
Cassandra Configuration
Cassandra Performance Tuning
Cassandra Maintenance
Vskills Online Learning Material
Vskills Certified Apache Cassandra Professional provides candidates a way to prepare for the exam using the online learning material for existence. The online material for this is regularly updated. Moreover, e-learning is bundled with hard copy material which encourages candidates to enhance and update the learning curve for superior and better opportunities. The candidate can also download the sample chapter for the Certified Apache Cassandra Professional exam.
Vskills Brochure
Vskills also provides a brochure for the Certified Apache Cassandra Professional exam. The brochure contains all the necessary related to the exam such as details, sample papers, important information, course outline, etc.

Books for Reference
The next step in the preparatory guide should be books and study guides. The candidate needs to find those books which are enriched with information. Finding a good book may be a difficult task, but in order to gather knowledge and skills, the candidate has to find, read, and understand. We recommend the following for additional knowledge:
Mastering Apache Cassandra 3.x: An expert guide to improving database scalability and availability without compromising performance, 3rd Edition by Aaron Ploetz, Tejaswi Malepati
Learning Apache Cassandra – Second Edition by Sandeep Yarabarla
Evaluate yourself with Practice Test
Practice tests are the one who ensures the candidate about their preparation for the Certified Apache Cassandra Professional exam. The practice test will help the candidates to acknowledge their weak areas so that they can work on them. There are many practice tests available on the internet nowadays, so the candidate can choose which they want. Try the practice test here!

Job Interview Questions
Get ready to crack you interview whether you are a fresher or looking to upgrade your career. These interview questions are designed for beginners and professionals. Checkout Now !