GSTN – Goods & Services Tax Network
Before we start learning the concept of GSTN let us first understand what is GST? It is very hard to make a layman understand What is GST, so here we define GST in simple  language.
GST is a two-in-one tax that will replace multiple levies on goods by the centre and states (like central excise duty, state VAT, CST on interstate sales, entry tax). The two-in-one will be Centre GST (CGST) and State GST (SGST).

Let us now move to GSTN
Goods and Services Tax Network (GSTN) is a not-for-profit, non-Government Company to provide shared IT infrastructure and services to Central and State Governments, tax payers and other stakeholders. The key objectives of GSTN are to provide a standard and uniform interface to the taxpayers, and shared infrastructure and services to Central and State/UT governments.
STRUCTURE OF GST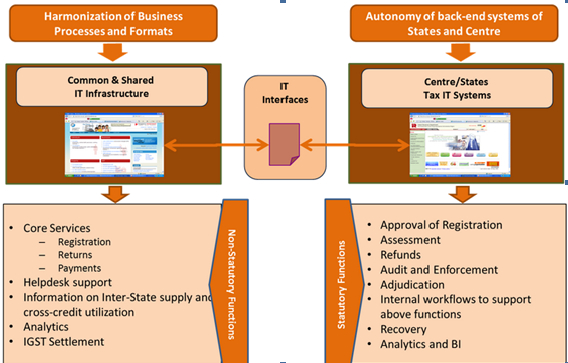 Empowered Group on IT Infrastructure for GST with following members
Member (B&C), CBEC
Additional Secretary (Revenue), DoR
DG (Systems), CBEC as Member-Secretary
FA, Ministry of Finance,
Member Secretary, Empowered Group of State Finance Ministers,
Member Technology Advisory Group for Unique Projects (TAGUP)
Commercial Tax Commissioners of Maharashtra, Assam, Karnataka, West Bengal and Gujarat.


Back to GST Tutorial Main Page