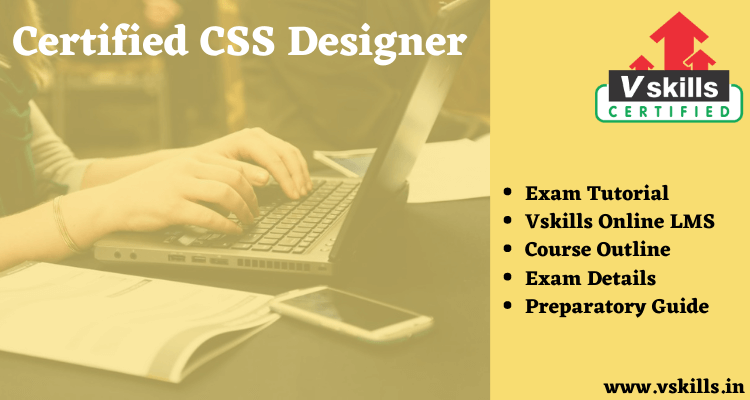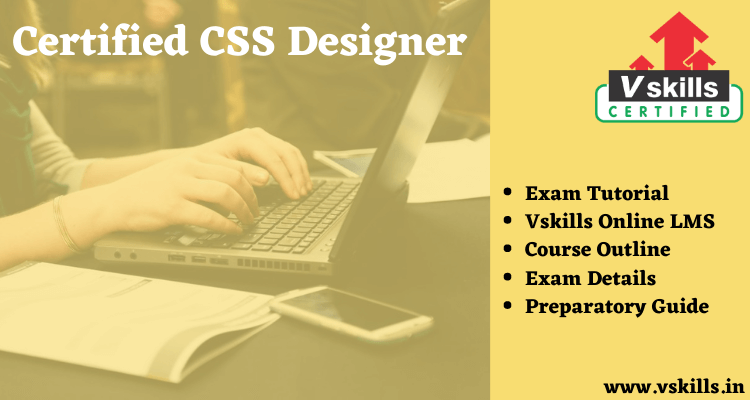 CSS is one of the leading core technology for building web pages. Cascading Style Sheets (CSS) is a style sheet language used to control the looks and output of an HTML, XML, or other markup languages. CSS allows for separation between fonts, formatting, colours, and other display characteristics and the source documents. It enables changes to large sites or collections of documents by changing styles common to all of them. CSS is convenient to understand and learn but it facilitates powerful control over the presentation of an HTML document. The Certified CSS Designer certificate proves that a candidate has such abilities to design and is capable of getting certified!
Skills of a Certified CSS Designer
Defining CSS.
Demonstrating using basic CSS syntax.
Showing set up web pages with CSS.
Displaying using CSS for styling text, font, and properties.
Demonstrating using CSS for styling page backgrounds.
Confirming styling lists in CSS.
Expressing using CSS classes and IDs.
Demonstrating using borders and height and width CSS properties.
Demonstrate using CSS pseudo-elements.
Describing positioning elements with CSS.
Prove to validate CSS and HTML, and
Illustrating mastery of lesson content at levels of 70% or higher.
Certified CSS Designer: Exam Overview
CSS Designer Certification requires HTML knowledge to allow organizations to develop website easily and to generate other web applications which are required by them. Nearly every sector requires CSS Designer nowadays, to perform such website support tasks as keeping website updating and troubleshooting if any problem occurs which helps in running the website smoothly. Vskills provide certification courses for those who seek a career in CSS. The course is intended for professionals and technical guidance seeking a career in the software industry and wanting to excel in the chosen area.
With the constant advancement in technology & continuous change in programming platforms, the demand for CSS professionals is on a rise. CSS is one of the most widely used languages in web development. If you've always wanted to build websites, CSS is one of the basic building-block of web development. After you finish this CSS course, you will be able to build real-world websites.
Vskills being India's largest certification provider gives candidates access to top exams as well as provides after exam benefits. This includes:
Become a Government Certified.
The Certification is valid for life.
Candidates will get lifelong e-learning access.
Access to free Practice Tests.
Candidates will get tagged as 'Vskills Certified' On Monsterindia.com and 'Vskills Certified' On Shine Shine.com.
Exam Details
Exam Duration: 60 minutes
Vskills Exam Code: VS-1028
Number of questions: 50
Maximum marks: 50
Passing marks: 25 (50%)
Exam Mode: Online
There is NO negative marking in this module.
Course Outline for Certified CSS Designer
Certified CSS Designer covers the following topics –
Preparation Guide for Vskills Certified CSS Designer
Candidates preparing for the exam should understand the importance of exam resources. During the exam preparation, it is necessary to get all the required exam study resources. This will give the advantage to understand the concepts and meaning more accurately. In the Certified CSS Designer preparation guide, we will discuss some of the most important resources to help you prepare well for the exam.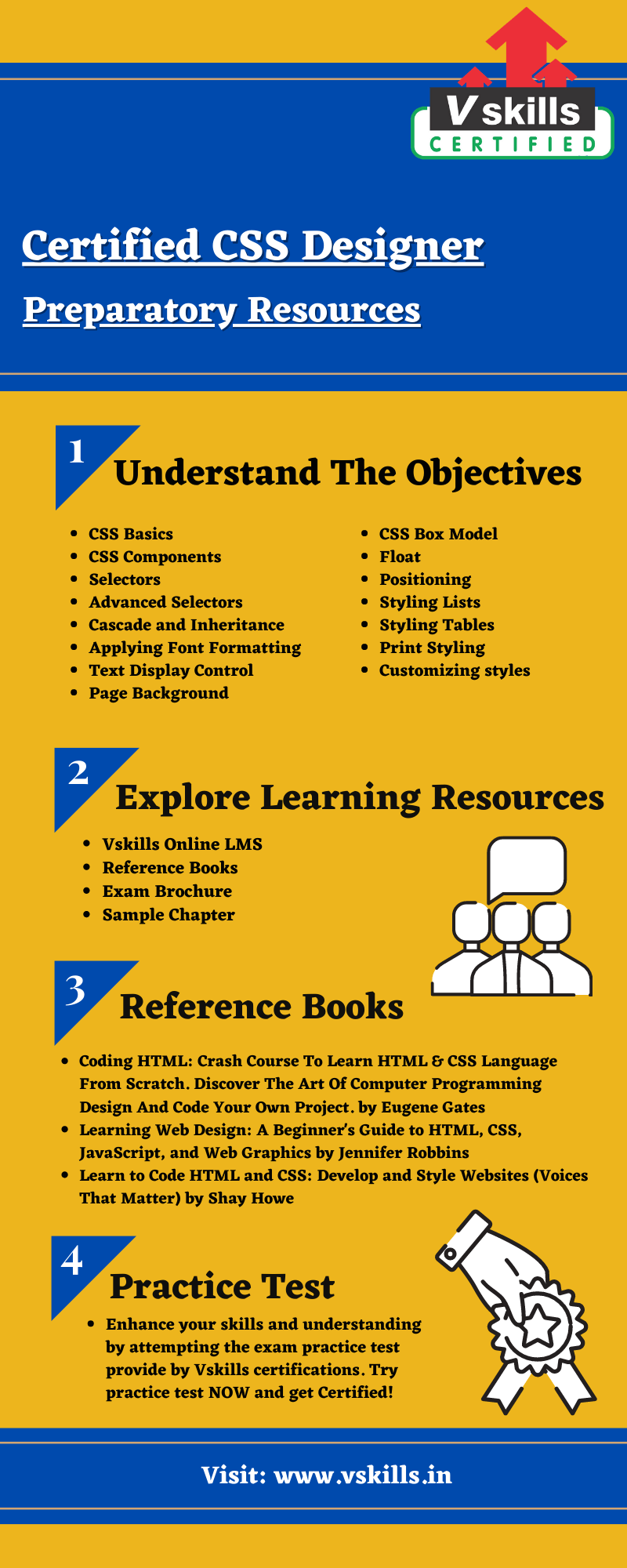 Exam Objectives
For every examination, the first task should be to get all the exam relevant details including the important contents and its topic. With complete exam objectives, the candidate's exam preparation time is better spent because they already know what to study. For the Certified CSS Designer exam, the topics include:
CSS Basics
CSS Components
Selectors
Advanced Selectors
Cascade and Inheritance
Applying Font Formatting
Text Display Control
Page Background
CSS Box Model
Float
Positioning
Styling Lists
Styling Tables
Print Styling
Customizing styles
Vskills Online Learning Material
Vskills Certified CSS Designer provides candidates a way to prepare for the exam using the online learning material for existence. The online material for this is regularly updated. Moreover, e-learning is bundled with hard copy material which encourages candidates to enhance and update the learning curve for superior and better opportunities. The candidate can also download the sample chapter for the Certified CSS Designer exam.
Vskills Brochure
Vskills also provides a brochure for the Certified CSS Designer exam. The brochure contains all the necessary related to the exam such as details, sample papers, important information, course outline, etc.

Books for Reference
The next step in the preparatory guide should be books and study guides. The candidate needs to find those books which are enriched with information. Finding a good book may be a difficult task, but in order to gather knowledge and skills, the candidate has to find, read, and understand. We recommend the following for additional knowledge:
Coding HTML: Crash Course To Learn HTML & CSS Language From Scratch. Discover The Art Of Computer Programming Design And Code Your Own Project. by Eugene Gates
Learning Web Design: A Beginner's Guide to HTML, CSS, JavaScript, and Web Graphics by Jennifer Robbins
Learn to Code HTML and CSS: Develop and Style Websites (Voices That Matter) by Shay Howe
Evaluate yourself with Practice Test
Practice tests are the one who ensures the candidate about their preparation for the Certified CSS Designer exam. The practice test will help the candidates to acknowledge their weak areas so that they can work on them. There are many practice tests available on the internet nowadays, so the candidate can choose which they want. Try the practice test here!

Job Interview Questions
Checkout these online job interview questions CSS Designer to upgrade your knowledge and become job ready, try now !