A financial manager's job is to provide clients and colleagues with financial advice and support so that they can make informed company decisions. As a financial manager, you'll need a strong grasp of financial systems and procedures, as well as a solid head for numbers and the ability to deal with complex modelling and analysis.
Let us know about Career Path for a Financial Manager!
About Financial Manager
Financial managers are in charge of an organization's financial health. They create financial reports, direct investment activities, and formulate long-term financial strategy and plans for their company.
Responsibilities
The following are examples of tasks that may be performed by people in different roles:
supplying and evaluating financial data
cash flow monitoring and interpretation, as well as forecasting future trends
analyzing change and making appropriate recommendations
Creating long-term and strategic business plans
Factors affecting business performance are being researched and reported on.
examining market trends and competition
Creating financial management systems that reduce financial risk
reviewing and evaluating potential cost-cutting opportunities
financial accounting, monitoring, and reporting systems management
coordinating with auditors to verify that annual monitoring is completed
Eligibility
For financial managers, a bachelor's degree in finance, accounting, economics, or business administration is frequently the bare minimum. Many firms, on the other hand, are increasingly looking for people with a master's degree (preferably in business administration, finance, or economics).
Financial managers usually have at least five years of experience in a business or financial position, such as loan officer, accountant, auditor, or financial analyst. Companies may offer formal management training programs to assist in the preparation of highly motivated and skilled financial personnel for positions as financial managers.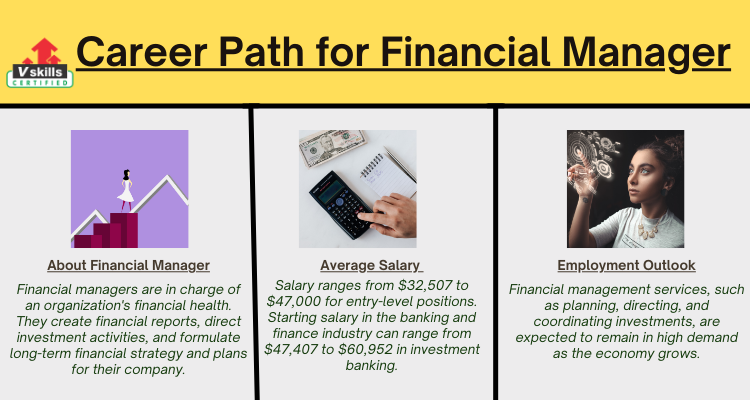 Career Prospects
Because all of the major certifying bodies demand a few years of industry experience, the majority of financial planners begin their careers as juniors, working part- or full-time while pursuing their degrees.
The financial planner can take clients without supervision after gaining certification. Financial planners in New York, the District of Columbia, Illinois, Connecticut, and Massachusetts are among the highest paid in the US. Most financial planners are also paid annual bonuses and/or profit-sharing, which can easily reach the five-figure mark.
Many financial advisors are willing to stay in their current positions, advancing to higher-net-worth customers and higher pay scales. Plus a relatively low-stress work environment, a senior financial planner at a large business can make a six-figure base income with a matching annual bonus.
Following their qualifications, some financial advisors want to work for themselves. Because the cost of running business is essentially the same as a modest office space, many people believe that the income potential is larger than that of a traditional finance job. Building a network of contacts and a steady client base is the key to independence and self-employment. Some job roles that you can expect in this domain are –
Bank managers
Banking center managers
Cash managers
City comptrollers
City treasurers
Controllers
Controllers, financial
Credit managers
Finance officers
Financial controllers
Average Salary
Salary ranges from $32,507 to $47,000 for entry-level positions. Starting salary in the banking and finance industry can range from $47,407 to $60,952 in investment banking.
Newly qualified accountants in government and non-profit organisations can expect to earn between $47,407 and $54,179 per year.
In business and industry, salaries for experienced finance managers (ten years or more) can range from $88,042 to $1,35,449+.
Scope
Financial management services, such as planning, directing, and coordinating investments, are expected to remain in high demand as the economy grows. Moreover, some financial management specializations, particularly cash management and risk management, are likely to be in high demand during the next ten years.
Companies have collected more cash on their balance sheets in recent years, particularly those with operations in other nations. This trend is likely to continue as globalization progresses. Since a result, financial managers should be in high demand, as businesses will require cash management competence.
A substantial number of financial managers work in the credit intermediation and related activities business (which includes commercial and savings banks). The number of bank branches is likely to fall as clients continue to perform transactions online, limiting job development in this industry. However, job losses are projected to be concentrated among clerical workers, such as tellers, rather than financial managers. Financial managers are expected to have a 17 percent increase in employment over the next 10 years.
Resources offered by Vskills for Financial Manager
Vskills offer Financial Manager certification for all those interested in working in this field or in advancing their career. This certification course covers various objectives –
Overview
Financial Statements
Cash Flow
Fixed Capital Analysis
Capital Structure and Dividend Policy
Working Capital Analysis
Inventory Management
Cash Management Analysis
Foreign Exchange Orientation
Commodity Exchange
Financial Risk Management
Vskills also offers free practice tests and online tutorials to supplement the learning process. You can check them by clicking on the following links –
Other Resources for Financial Manager
Before you can become an expert in desired areas, you must first build a solid base. Before you can move on to practical teaching, you'll need to have the right applied skills. To gain better understanding of the domain, you can use the following tools:
Firstly, Online Tutorials for Financial Manager
Also, Certification Courses from verified sources such as Vskills, Coursera, Udemy and so on.
In addition, Online communities
Moreover, Blogs and study material from experts in this field and many more.
Here are some examples of how you can improve your abilities:
Freelancing
Internships
Apprenticeship programs
The above steps will help you to get this domain started. It's a long way to go, however. You can take an advanced course to reach a new level of skills.
Discover the career opportunities and other prospects of Career in Financial Manager. Hurry up and start preparing now with Vskills.in!